You don't have to choose – be ambidextrous Wednesday, 22 October 2014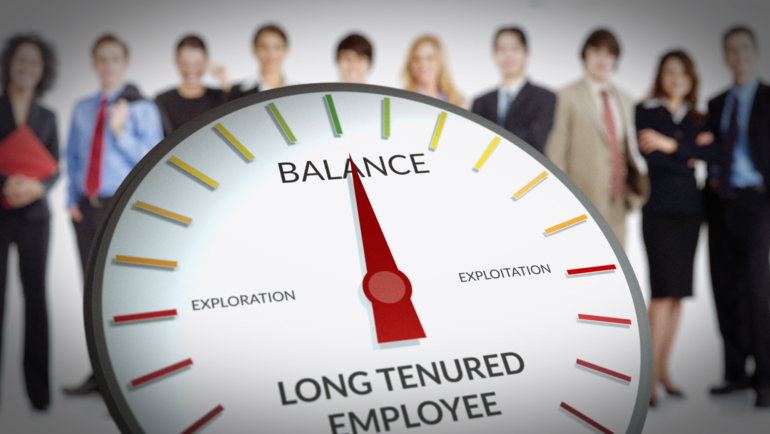 Companies that can excel in efficiency and innovation are most successful – even in times of crisis. Such companies are called ambidextrous. New research by Associate Professor Tom Mom of Rotterdam School of Management, Erasmus University (RSM) reveals that companies can make themselves ambidextrous by valuing the experience of long-tenured employees and positioning them carefully and in an unorthodox way within the organisation.
Companies and their leaders must be flexible and entrepreneurial to renew themselves and to develop the innovations for the future. At the same time, they must be very efficient and focused to beat today's competition. But combining these two different worlds is difficult and gives rise to tensions in the organisation. How can companies structure themselves to become ambidextrous? What kind of leadership is required for that? The answers are crucial because companies that combine both exploration and exploitation do significantly better compared to companies that focus on just one. Even in times of financial crisis, the researchers found that ambidextrous companies are affected less and usually come out on top.
To do this, companies need ambidextrous employees and leaders who think in paradoxes rather than dilemmas, are very strong social networkers throughout the organisation, and can multitask successfully. But how and where can companies find them? Based on data from more than 750 employees, Dr Tom Mom found that it is important not to undervalue the more experienced employees with high tenure within the organisation. The longer employees work in an organisation, the more open and amenable to ambidexterity they become. Long-tenured managers have better networks and can mobilise resources more easily; they are also more trusted and thus allowed to experiment within the organisation and to learn from failure. However, the benefits of long tenure apply only if companies have HR management systems that promote job rotation and in which employees can work in different functions. The positioning of ambidextrous workers is also essential; they need positions that demand juggling two roles, such as a management or team leader position.
Dr Mom urges HR departments and HR companies to develop recruitment and training methods to carefully select and further train employees who are ambidextrously skilled.
Rotterdam School of Management, Erasmus University (RSM) is ranked among Europe's top 10 business schools for education and among the top three for research. RSM provides ground-breaking research and education furthering excellence in all aspects of management and is based in the international port city of Rotterdam – a vital nexus of business, logistics and trade. RSM's primary focus is on developing business leaders with international careers who carry their innovative mindset into a sustainable future thanks to a first-class range of bachelor, master, MBA, PhD and executive programmes. RSM also has offices in the Amsterdam Zuidas business district and in Taipei, Taiwan. www.rsm.nl
For more information about RSM or on this release, please contact Ramses Singeling, Media Officer on +31 10 408 2028 or by email at singeling@rsm.nl.