Colleagues who know 'who knows what' are beneficial for business Thursday, 29 October 2015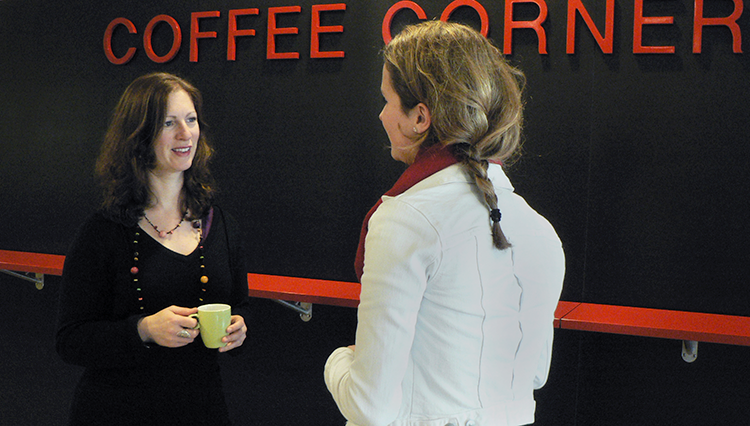 Over time, employees gather a body of collective knowledge that becomes increasingly important to companies. But who knows which colleagues have what specific knowledge? And who can connect 'colleagues who know' with colleagues who need to know? In her upcoming PhD thesis Julija Mell from Rotterdam School of Management, Erasmus University (RSM) describes how these valuable meta-knowledge specialists help to process information thoroughly and to build bridges between teams.
Whether they are working on scientific breakthroughs, tackling complex policies or creating innovative products or services, many organisations use large numbers of people to solve complex problems. Using the specialised knowledge of the whole workforce can increase the chances of new insights and more successes. That requires a bird's-eye view of collective or meta-knowledge, but this ability is often not evenly distributed across the organisation.
Benefits for the whole team
Some people are likely to possess more meta-knowledge than others – for example, because of prior experience, personal inclination, or because their role in the organisation enables them to easily gather information about their colleagues' specialisations and activities. As Julija Mell demonstrates, it is not just such 'meta-knowledge specialists' themselves who benefit from knowing who-knows-what. The entire team does because these individuals connect information-seekers to information-holders. This way, meta-knowledge specialists promote discussion and can act as catalysts in group decision-making.
"...meta-knowledge specialists promote discussion and can act as catalysts in group decision-making."
People who establish connections between groups become essential if the knowledge needed to solve a problem is not concentrated within a single team but within several departments. They communicate to their own teams 'what the other side knows' and help to integrate knowledge across organisational groups, thus stimulating collaboration. In her research, Mell found that more effective bridges between groups are built when both sides liaise using meta-knowledge specialists.
Managers need meta-knowledge too
Almost anyone in the organisation can become an effective meta-knowledge specialist. But Mell's research suggests that when employees need to find out who in the company has knowledge that they need, it is high-ranking managers they naturally turn to for advice. So, managers may want to pay particular attention to keeping their meta-knowledge up to date in order to be effective knowledge coordinators.
Julija Mell will defend her dissertation in the Senate Hall, Erasmus Building at Erasmus University Rotterdam on Thursday, 5 November 2015 at 11:30. Her supervisors are Prof. Daan van Knippenberg and Dr Wendy van Ginkel. Other members of the Doctoral Committee are Prof. Steffen Giessner (RSM), Prof. Pursey Heugens (RSM), and Dr Mark Mortensen (INSEAD).
Rotterdam School of Management, Erasmus University (RSM) is a top-tier European business school and ranked among the top three for research. RSM provides ground-breaking research and education furthering excellence in all aspects of management and is based in the international port city of Rotterdam – a vital nexus of business, logistics and trade. RSM's primary focus is on developing business leaders with international careers who carry their innovative mindset into a sustainable future thanks to a first-class range of bachelor, master, MBA, PhD and executive programmes. RSM also has an office in Taipei, Taiwan. www.rsm.nl
For more information about RSM or this release, please contact Ramses Singeling, Media Officer for RSM, on +31 10 408 2877 or by email at singeling@rsm.nl.