School children speed up adoption of new technology Thursday, 27 October 2016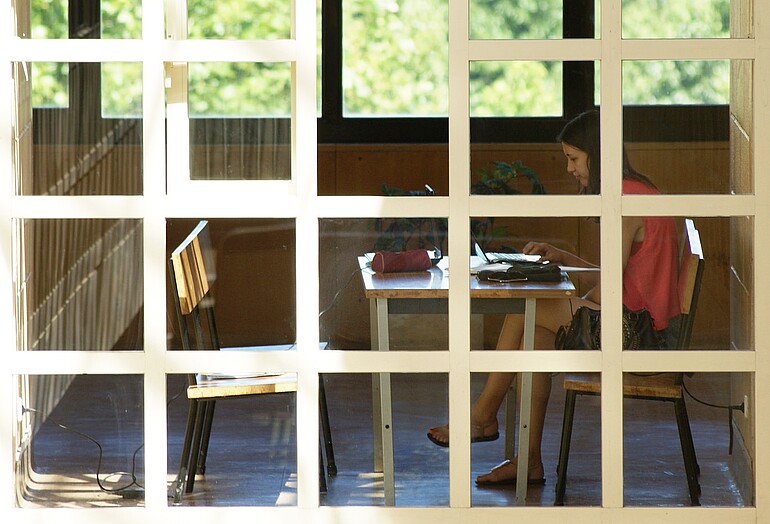 Introducing technology to schoolchildren helps to get it adopted by their parents and neighbouring households. That's what researcher Rodrigo Belo of Rotterdam School of Management, Erasmus University (RSM) found after studying the effects of installing broadband internet in Portuguese schools.
Having access to technology like broadband internet does not mean people will actually start using it, researcher Belo says. Adoption of available technology is also a social process. Potential users often first look at others using the technology to decide if its benefits justify the cost. Then they need to learn the necessary skills to use it. Schoolchildren can be helpful assistants in both these steps, by first demonstrating to their parents the usefulness of a new technology they learned at school. Parents can then learn the skills to use that technology themselves by observing their children and mimicking their behaviour, says Belo.
Spill-over
This transfer of knowledge and behaviour between people is generally called 'spill-over'. To measure the strength of the spill-over effect between children and parents, Belo and his colleagues studied how the introduction of broadband internet in over 5,000 Portuguese schools influenced the adoption rates of broadband internet in neighbouring households between 2006 and 2009.
The researchers found that schools that were lucky enough to get a fast internet connection because of their close proximity to the internet service provider's central office saw a larger increase in school internet use. High-speed internet obviously makes being online in school more productive and fun for children.
But interestingly, neighbouring households with children that attended schools with this faster internet were also more likely to adopt broadband internet, the results showed. The researchers calculated that this spill-over effect of broadband use in schools accounted for a year-on-year increase of broadband internet penetration in Portugal of 3.5 percentage points, or about 17 per cent of the increase in broadband adoption in that period. This spill-over effect from better internet at school was upheld even when the researchers filtered out other important factors that might have affected people's buy-in of speedier internet, such as income.
Regional spill-over
The researchers also found that people were more likely to adopt internet if others in the same municipality were already using it. Here, the same mechanisms of finding out about it from others and then copying their behaviour apply. This so-called 'regional spill-over' effect contributed to 38 per cent of the growth in internet household penetration between 2006 and 2009, the researchers discovered. Belo says that this regional spill-over further amplifies the initial gains in internet penetration set in motion by schoolchildren using it. Ultimately, the entire community appears to benefit from installing broadband internet in schools.
The researcher says this study first demonstrates that if governments want to promote the use of internet to trigger economic growth or innovation, they should start by offering fast internet in schools, as children clearly take their knowledge home. This could be particularly practical in regions in Africa, South America and Asia, where internet penetration is still relatively low.
But it also shows that other new technologies – for example virtual reality and augmented reality – might more easily find a wider audience once they have found a useful purpose in the classroom, Belo concludes.
The paper: Belo, R., Ferreira, P. M. & Telang, R. (2016). Spillovers from Wiring Schools with Broadband: the Critical Role of Children. Management Science, Accepted.
Rotterdam School of Management, Erasmus University (RSM) is one of Europe's leading research-based business schools. RSM provides ground-breaking research and education furthering excellence in all aspects of management and is based in the international port city of Rotterdam – a vital nexus of business, logistics and trade. RSM's primary focus is on developing business leaders with international careers who carry their innovative mindset into a sustainable future thanks to a first-class range of bachelor, master, MBA, PhD and executive programmes. Study information and activities for future students, executives and alumni are also organised from the RSM office in Chengdu, China. www.rsm.nl
For more information about RSM or this release, please contact Ramses Singeling, Media Officer for RSM, on +31 10 408 2028, or by email at singeling@rsm.nl.
Photo (CC AT SA): Nicola Sap De Mitri