BLOG: Why we can't assess Super Mario Run's performance only by its revenues Monday, 19 December 2016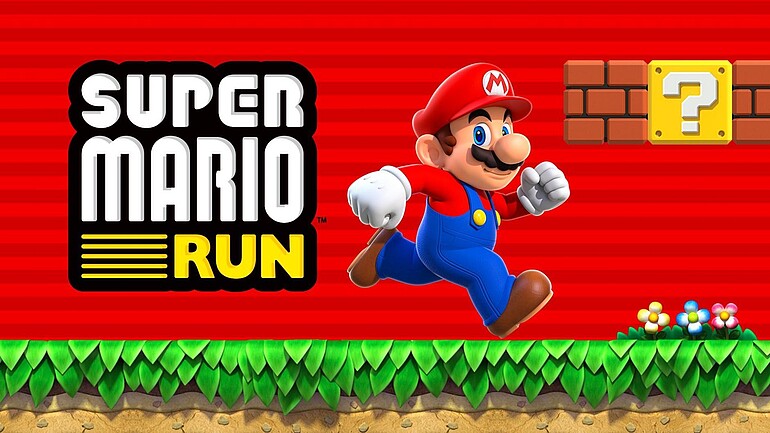 Nintendo's Super Mario Run has finally come out for iPhone. The game has been downloaded more than 10 million times and raked in over US$ 4 million on its first day. That said, in order to fully understand the impact of Super Mario Run on Nintendo's long term performance, we need to look beyond the mobile game's revenues.
Last week Nintendo finally released the highly anticipated Super Mario Run for Apple's iPhone and iPad. In the mobile game, the player controls the iconic Nintendo mascot by tapping the screen to make him jump. Mario runs by himself and the game's gimmick is thus that it can be played by using one hand only. As Mario runs though the 24 levels, the player is tasked to dodge enemies, collect coins, and avoid falling into life-threatening pits. The game also features an asynchronous online multiplayer mode. The game's first four levels can be played free of charge and it costs € 9.99 to unlock the full game.
Launch day performance
App store trackers such as App Annie are reporting that Super Mario Run was downloaded 10 million times within 24 hours and that it totaled approximately US$ 4 million revenue in its first day. These numbers beat those of Pokémon Go, the other highly successful mobile game Nintendo was involved in. In fact, Super Mario Run's launch day performance is unprecedented by mobile standards. Indeed, App Annie's industry analysis director Sameer Singh was quoted in the Financial Times saying "for a paid game, Super Mario Run seems to have had the most successful launch ever on mobile."
"...exclusivity and high quality software can give platforms such as video game consoles a competitive advantage over their competitors."
Nintendo's investors must feel vindicated by Super Mario Run's initial performance. For years, investors have asked and urged Nintendo's top management to foray into platforms other than its own. With more than a billion iOS devices sold and fewer than 14 million Nintendo Wii U's worldwide, surely Nintendo would be a 'thief of its own wallet' if it did not exploit some of its most valuable intellectual properties on other, more diffused, platforms? Yet, Nintendo's management has always been reluctant about the idea of releasing Mario, Zelda, and Donkey Kong on Apple or Google, and for good reason. Super Mario Run's contribution to Nintendo's bottom line isn't determined by app store revenues only.
Exclusivity
Games like Super Mario Run can affect Nintendo's long-term success in the console industry. By bringing Nintendo's most successful properties to external platforms they will be no longer be exclusive to Nintendo platforms. Furthermore, by working with licensed hardware rather than proprietary hardware it becomes harder for Nintendo to safeguard the quality of their games. Research in platform competition found that it is precisely exclusivity and high quality software that can give platforms such as video game consoles a competitive advantage over their competitors. Studies done by colleagues at the Erasmus University found that video games that are exclusive to one console and those of high-quality drive console sales significantly more so than non-exclusive, low-quality games.
Hardware sales
If consumers perceive Super Mario Run to be a substitution for what they can get on a Nintendo console (and this is really the key question), they may decide not to buy Nintendo's next console, the Switch. This would not only hurt Nintendo's income from hardware sales, if enough consumers arrive at the same conclusion it will also discourage other game developers to release their games on Nintendo platforms because there would not be enough critical mass to sell to. This poses an even bigger problem to Nintendo because the firm receives a hefty royalty payment from every game sold on its consoles. The positive feedback loop of more console sales leading to more game sales that a powerful property like Mario can ignite might simply be not as strong when said property is 'diluted' by a cross-platform release.
Nintendo Switch
For now, Nintendo has once more demonstrated the value and appeal of its intellectual properties. The firm managed to stay relevant in a holiday season where it is not really playing a role of importance in the console market that is being dominated by Sony and Microsoft. Moreover, Super Mario Run has ushered in the era of the blockbuster mobile video game, and that is certainly no small feat. After having completed Super Mario Run, some consumers will be left craving for more while others will be satiated and move on to do other things with their lives. Nintendo's next video game console, Switch, is scheduled for a worldwide release in March 2017. It will be interesting to see how the console will fare now that Mario has finally dipped a toe into the mobile gaming market.
Dr Joost Rietveld is assistant professor in strategic management in RSM's Department of Strategic Management & Entrepreneurship.
He also publishes about the gaming industry on his own blog: www.strategyguide.nl
Photo: Nintendo