Why it's harder for women to be seen as authentic, effective leaders Tuesday, 27 June 2017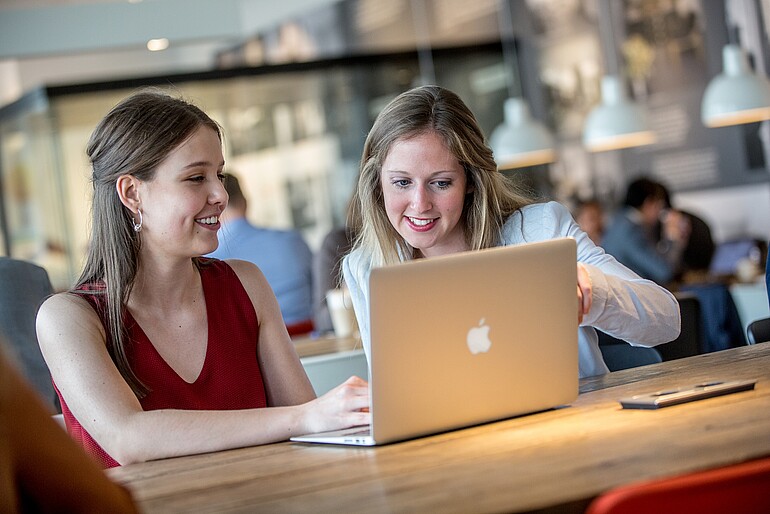 Women with a masculine leadership style confuse their team members if they also act in a warm, gentle and considerate way. Combining these two types of behaviour makes them appear less authentic in the eyes of their team and as a result, they are perceived as less effective leaders. This result came from a study by PhD graduate Jasmien Khattab of Rotterdam School of Management, Erasmus University (RSM).
Earlier studies outlined this double bind for women in or aspiring to leadership positions, says Khattab. When they act with kindness and understanding ‒ traits usually associated with femininity ‒ they are seen as less competent. On the other hand, women that come across as dominant and self-confident ‒ stereotypically 'masculine behaviour'‒ are liked less and as a result are more likely to be passed over for leadership positions.
Conflicting roles
To navigate this apparent conflict and have a better chance of being promoted into leadership roles, women are often advised to combine the two traits, Khattab says. To test the validity of this recommendation, Khattab and her RSM colleague Hannes Leroy surveyed 48 team leaders in the service industry, and 213 of their team members.
Leaders were first asked to indicate the extent to which they saw themselves as 'stereotypically feminine' and 'stereotypically masculine' in their leadership position.
"'Feminine' leaders are… kind, helpful, understanding, 'warm', aware of other's feelings, able to devote self to others."
"'Masculine' leaders are… active, not easily influenced, independent, dominant, self-confident, competitive."
Leader effectiveness
Next, team members rated their leaders' effectiveness. Analyses showed the ratings of women leaders who are very masculine in their leadership style suffer when they also behave in a feminine way: mixing the two leadership styles noticeably decreases their perceived effectiveness. However, men with a high degree masculinity in their leadership are not penalised for becoming a more feminine leader in this fashion. Khattab also found that women with a less masculine leadership style benefitted from adopting feminine behaviour. Their team members started to see them as more effective.
Authenticity
Digging deeper, Khattab discovered both the penalty and bonus for women leaders acting more femininely can be explained by teams' perception of women leaders' authenticity. When women leaders consistently show the same behaviour, their team members will see this as authentic behaviour, even when it does not match stereotypical expectations, as is the case when women lead in masculine fashion.
But when women display seemingly conflicting masculine and feminine behaviours, their teams try to make sense of this confusing situation by assuming that their leaders are in fact feminine, and only act masculinely because they are in a leader role. This causes their teams to see them as less authentic in their leader role, and as a result, as less effective leaders.
Societal expectations
So, should women leaders avoid confusing their teams by sticking to just one of the traits? Khattab says if we truly want gender equality in leadership it would be better to stop evaluating women leaders according to gender expectations, and instead evaluate them according to their job descriptions and actual performance.
The results of this study show we have much stronger expectations of the societal roles of women, in terms of the type of leader she should be, than we do for men, says Khattab, and these expectations are even more complex than we think. Advising women to adhere to societal expectations means we will never break the mould and will continue to make it more difficult for women leaders, she concludes.
Download Jasmien Khattab's thesis here: Make Minorities Great Again: a contribution to workplace equity by identifying and addressing constraints and privileges
Rotterdam School of Management, Erasmus University (RSM) is one of Europe's top 10 business schools. RSM provides ground-breaking research and education furthering excellence in all aspects of management and is based in the international port city of Rotterdam – a vital nexus of business, logistics and trade. RSM's primary focus is on developing business leaders with international careers who can become a force for positive change by carrying their innovative mindset into a sustainable future. Our first-class range of bachelor, master, MBA, PhD and executive programmes encourage them to become critical, creative, caring and collaborative thinkers and doers. Study information and activities for future students, executives and alumni are also organised from the RSM office in Chengdu, China. www.rsm.nl
For more information about RSM or this release, please contact Ramses Singeling, Media Officer for RSM, on +31 10 408 2028 or by email at singeling@rsm.nl.