RSM Discovery Magazine 31: out now! Wednesday, 11 October 2017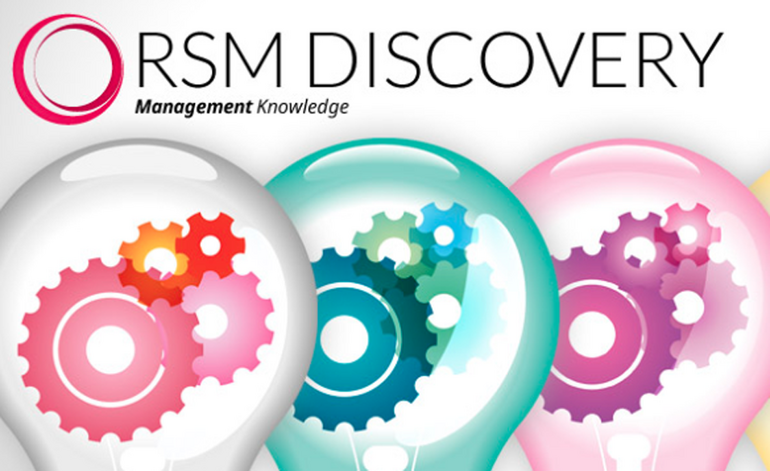 RSM Discovery Magazine 31 (PDF) is out now, with an in-depth coverage of these topics:
Finding the tipping point between financial and social incentives
Selling flowers with analytics
The forces and factors influencing company longevity
Decision-making: are managers biased by their characters?
Managing the supply and demand of creativity
Individual creative ability versus group collaboration
Here's what editor-in-chief professor Henk Volberda has to say about this latest feature:
"For business survival, an open mind is essential
The race for business success, it is often said, is won by the fast. This is not always true. Business is also won by companies that endure across generations. Through longevity, a continued presence embeds some firms in sectors to such a degree that they effectively develop an almost unassailable position.
One such example is Pakhoed, which merged with Van Ommeren in 1999 to become Vopak, a leading player in bulk liquid storage terminals. Pakhoed has a history stretching back 400 hundred years. Why, then, do some firms last when so many others fall by the wayside? Indeed, as reported in Dr Hugo van Driel's article on p11, the average lifespan of a Standard & Poor 500 firm is a mere 18 years. As the article explains, Pakhoed's longevity can be attributed its '…sense of identity, financial conservatism, and open management style…' While financial conservatism over generations is somewhat beyond the remit of most executives, understanding the value of identity (whether internally or externally) and being open-minded are contributing factors to business success.
Getting the best out of a firm's human capital is a continual challenge, one that is at the heart of the complex employer-employee relationship. The question of how to best motivate people, and whether a stick or carrot approach is more favourable, is discussed by Prof. Frank Hartmann in his article on p05."
Being open to exploring the potential of new ideas, and how it took Prof. Eric van Heck three years to convince the Dutch flower industry to see the advantages presented by "big data", is the subject of his article on p08. On p14, Saeedeh Ahmadi explores the psychological factors that can influence managers' motivations and biases when they are required to make decisions about whether their firm should embrace a new technology; something executives need to understand when assigning managers to such tasks.
Creativity is of exceptional value to firms, yet most senior executives do not know how to manage or encourage it. In their article on p17, Prof. Berend Wierenga, et al, discuss ways organisations can do so, and provide a framework through which this can be achieved. A further challenge when seeking to harness or boost creativity is whether managers should focus on the best individual talents they have or favour group collaboration. Yingjie Yuan outlines her research into this subject on p20.
The articles in this issue of RSM Discovery magazine make one thing is clear: executives need to take a flexible and open-minded approach towards employees and to managing their firms. If they do not, they just might find the timer against which their firm's longevity is measured is counting down just a little too quickly."