'Large power companies can play a leading role in the energy transition' Wednesday, 6 December 2017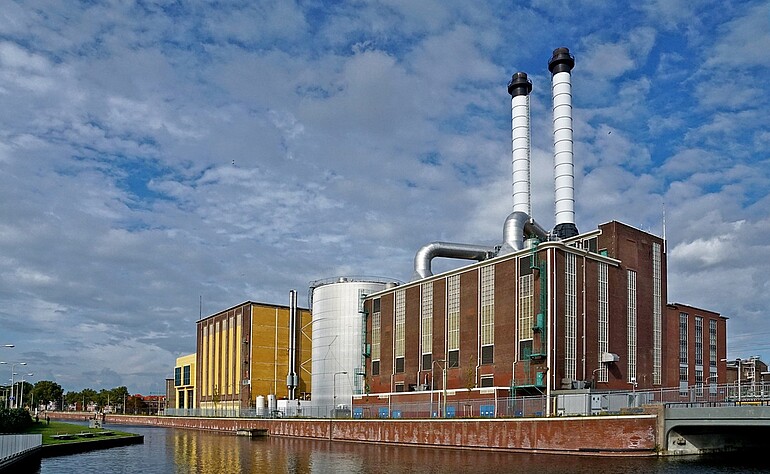 During exchanges of ideas about the energy transition, large-scale incumbents in the energy sector are often referred to as a delaying factor. The parties concerned claim that these incumbents are having difficulty in abandoning use of fossil fuels. PhD student Gerbert Hengelaar of Rotterdam School of Management, Erasmus University (RSM) studied the formation of the Energy Agreement in 2013 and discovered that contrary to expectation, these incumbents fulfilled a crucial role in accelerating the transition by forming coalitions.
After many years of implementing a rapid succession of policy changes with effect from 2000, the government, the business sector and environmental groups began to feel an urgent need for stability and a clear long-term vision round about 2010, according to Hengelaar. The Ministry of Economic Affairs subsequently decided to ask as many of these parties as possible - a total of 47 - to enter into negotiations for the purpose of arriving at an energy agreement enjoying widespread public support.
Hengelaar was keen to find out what role large-scale power companies such as Eneco and Essent played in this respect, in view of their vested interests and the influence they had built up over the years. He analysed 1345 newspaper articles to discover how exactly the negotiations had proceeded. This served to elucidate the precise ideological position adopted by each party, as well as how (and why) these positions shifted over time. He also examined what influence these positions had on the coalitions formed among all the lobbyists during the proceedings.
Core values
First of all, Hengelaar studied the relatively constant core values at each company: what exactly were they in favour of in respect of energy transition? He established five separate visions in this respect: pro-decentralisation (diminished government involvement), pro-environment, green growth (sustainable growth creates jobs), clean fossil fuels and 'pro-economy'. The power companies used these ideological foundations as a basis for seeking like-minded parties and forming coalitions with them.
From Hengelaar's analysis, it emerged that most of the incumbents in the energy sector were mainly in favour of clean fossil fuels, and that their preferred partners shared this view. This discovery was not entirely surprising. But it also emerged that a number of statements made by these companies in general - and by Eneco in particular - could be classified under the heading of 'green growth': at least 84% of Eneco's statements could be traced back to the 'green growth' idea.
And that is how Eneco ended up in a coalition with like-minded banks such as Triodos and ASN, and with environmental organisations like Greenpeace. The fact that these unlikely partners joined forces meant that they succeeded in getting their ambition of a substantial increase in wind power production at sea included in the definitive Energy Agreement. In addition, this group - together with the 'pro-environment' coalition - lobbied successfully for measures that would ensure greater energy saving in buildings. This example of Eneco's attitude shows us that contrary to popular belief, incumbents can still play a major role in establishing a more sustainable energy policy.
According to Hengelaar, this research also demonstrates that the influence wielded by incumbents in the energy sector goes much further than 'merely' investing in sustainable technology: they have a considerable say in the public debate, and they also play a large part in policy-making. And it is this very policy that often constitutes the deciding factor in transitions. Hengelaar added that the fact that proactive incumbents in the energy sector join forces with green parties, as Eneco has done with the 'green growth' coalition, is a very important point in breaking through the closed ranks of the energy and industrial sectors. It means that incumbents in the energy sector no longer have to be an inhibiting factor in the energy transition; on the contrary, they can reinforce and broaden public support for this transition, Hengelaar concludes.
Download Gerbert Hengelaar's thesis here: The Proactive Incumbent: Holy grail or hidden gem? : Investigating whether the Dutch electricity sector can overcome the incumbent's curse and lead the sustainability transition
Photo Credit (CC BY-NC 2.0): Roel Wijnants
Rotterdam School of Management, Erasmus University (RSM) is one of Europe's top 10 business schools. RSM provides ground-breaking research and education furthering excellence in all aspects of management and is based in the international port city of Rotterdam – a vital nexus of business, logistics and trade. RSM's primary focus is on developing business leaders with international careers who can become a force for positive change by carrying their innovative mindset into a sustainable future. Our first-class range of bachelor, master, MBA, PhD and executive programmes encourage them to become critical, creative, caring and collaborative thinkers and doers. Study information and activities for future students, executives and alumni are also organised from the RSM office in Chengdu, China. www.rsm.nl
For more information about RSM or this release, please contact Ramses Singeling, Media Officer for RSM, on +31 10 408 2028 or by email at singeling@rsm.nl.