RSM Discovery Magazine 33: out now! Monday, 9 April 2018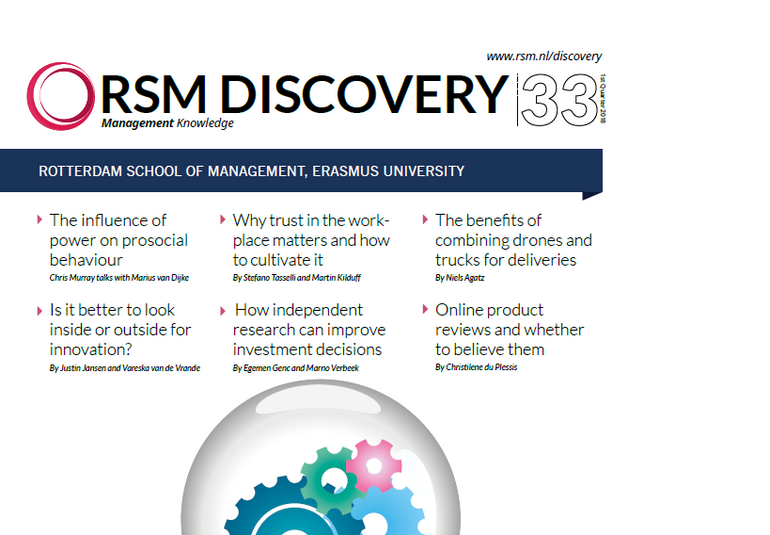 RSM Discovery Magazine 33 (PDF) is out now, with an in-depth coverage of these topics:
The influence of power on prosocial behaviour
Is it better to look inside or outside for innovation?
Why trust in the workplace matters and how to cultivate it
How independent research can improve investment decisions
The benefits of combining drones and trucks for deliveries
Online product reviews and whether to believe them

Here's what editor-in-chief professor Henk Volberda has to say about this latest feature:

Adopting new technologies of the Fourth Industrial Revolution

Business model innovation through the introduction of new technologies is an obvious lever for competitive advantage. There have been successive waves of technology that have given rise to new business models. During the Industrial Revolution, the arrival of steam made it possible to mechanize production. This saw the rise of companies that provided and used steam engines, such as steam mills and locomotives. There was arguably a second similar revolution roughly a century ago, driven by the invention of electricity and other technologies such as the combustion engine, aeroplanes, and moving pictures. The use of electricity led to mass production. A third wave of industrial development came with the rise of the personal computer, digital technology, and the internet, which led to greater automation of production through the use of IT.

The most recent wave is based on a fusion of technologies that fully integrate digital, physical, and biological environments. Technologies that were previously separate, such as artificial intelligence and machine learning, robotics, nanotechnology, 3D printing, genetics, and biotechnology, have come together to build on one another.

Developments such as the Internet of Things, big data, portable and implantable technologies, and driverless cars have brought about completely new and unexpected business models. Drone technology is allowing Amazon.com to experiment with new and potentially faster logistical services, so that established parcel delivery companies now risk being pushed out of Amazon's value chain for regional transportation.

This is just one of the fascinating subjects explored in this issue of RSM Discovery magazine. This issue also features research-based articles that provide the latest insights into: the benefits of taking a systemic approach towards innovating your business, and whether new technologies should be developed in-house or co-created with outsiders; how perceptions of trustworthiness and fairness among employees can benefit organizations and individuals; the value of independent research in improving investment allocation decisions, and the role of social influence in online product reviews.

I am sure you will find these articles to be most stimulating and welcome any comments that you might have.