RSM Discovery Magazine 34: out now! Saturday, 16 June 2018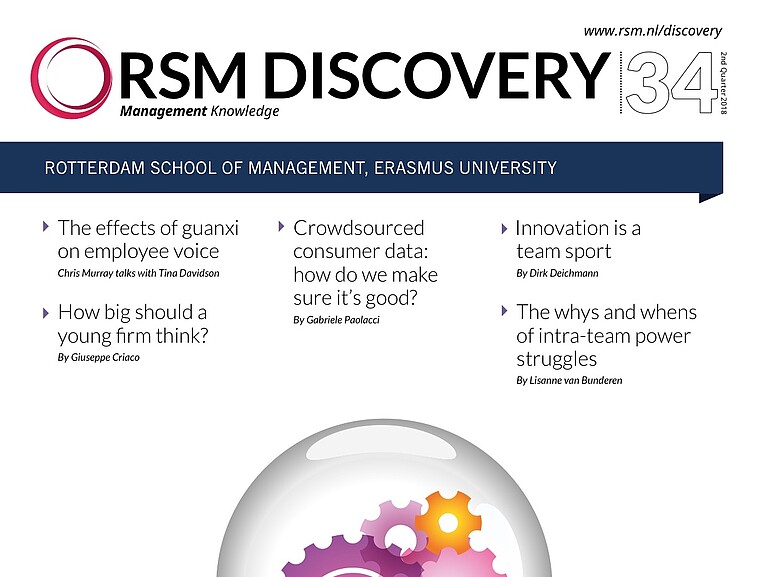 RSM Discovery Magazine 34 (PDF) is out now.
The articles in this issue explore how organisations can build on and maximise the innovation potential of their greatest asset – human capital. Specifically:
How understanding the Chinese concept of guanxi can help you improve supervisor-subordinate relationships.
Why innovation should be considered as a team sport.
Intra-team power struggles and how to avoid them.
The geographical diversification strategies of "born global" entrepreneurial ventures.
Using crowdsourcing to understand consumer behaviour.
Here's what editor-in-chief professor Henk Volberda has to say about this latest feature:
How to boost your innovation output
The Oxford Dictionary of English defines the verb "innovate" as: Make changes in something established, especially by introducing new methods, ideas, or products. The word originates fromthe Latin Innovat-, meaning renewed, altered.
Without innovation there is only mediocrity. And if the driving force of your organisation is mediocrity, extinction awaits. Goodbye. Continually developing "new methods, ideas and products" must be hardwired into the DNA of organisations if they are not only to succeed, but also survive. That requires innovation to be embedded into every function, department, team and individual therein.
Ensuring a positive workplace culture – one where relationships between supervisors and subordinates (known in Chinese culture as guanxi) benefit the individuals and the organisa-tion as a whole – encourages everyone to feel valued (p05) and in turn creates a supportive space in which new ideas can flourish. Building on that, seeing innovation as a team sport, as described by Dirk Deichmann (p12), can help innovation programme managers make betteruse of the inspired and talented idea generators who are to be found in the corridors andoffices of every organisation.
Competition and power struggles between teams can affect morale and impact negatively on innovation, thus an understanding of the intricacies of intra-team dynamics – and creating flat-ter hierarchical structures or encouraging higher levels of team dependencies – can facilitate a harmonious and nurturing environment in which innovation can thrive (p16).
Elsewhere in this issue of RSM Discovery magazine, Giuseppe Criaco explores the successes of online start-ups that are "born global" and considers the relative merits of their geographical diversification strategies, while Gabriele Paolacci provides valuable guidelines for organisa-tions crowdsourcing consumer data.
I am sure you will find the management knowledge developed by Rotterdam School of Management, Erasmus University, and presented in this issue to be both insightful and of real practical value as you build on the benefits of an innovation-driven world.