When theories become self-fulfilling, companies had better pay attention Thursday, 9 August 2018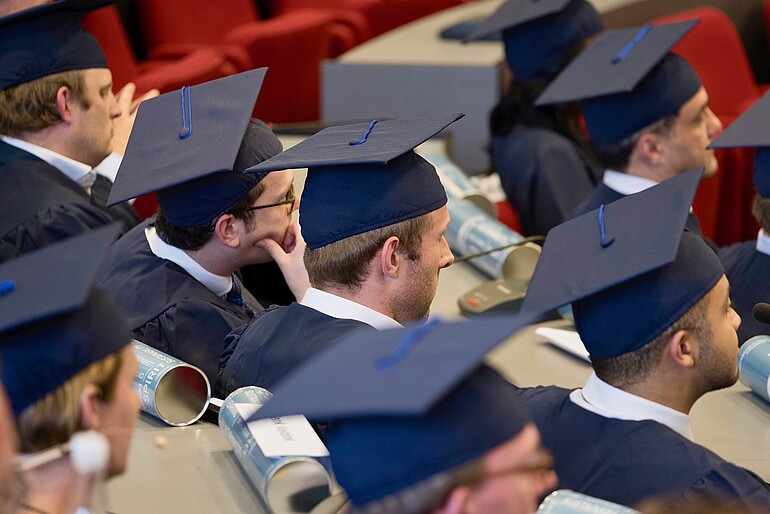 Sometimes new scientific theories don't just describe social reality, they change it. Companies that resist these changes may suffer, but companies that embrace them can profit. Especially if they are early adapters. But how do you know if a new theory will change your reality? Dr Emilio Marti of Rotterdam School of Management, Erasmus University (RSM) and Prof. Jean-Pascal Gond describe the conditions under which scientific theories become self-fulfilling. For their work, they have won the best paper award of the German Academic Association for Business Research (Verband der Hochschullehrer für Betriebswirtschaft).
Until 1870, employers in the USA paid little attention to the well-being of their employees. Then, radical theories of 'industrial betterment' emerged, which stated that increasing the welfare of employees would make factories more productive. The railroad industry began to experiment with this theory, and after positive results, more corporations followed. By 1900 the new practices were common good. The theory had become self-fulfilling.
Social and financial performance
Researchers Marti and Gond wanted to know how this process works. They examined the large amount of research done on the link between corporate social performance (CSP) and corporate financial performance (CFP).
Some theories claim that a good social performance by a corporation diminishes their financial performance. Other theories state the opposite. Some researchers have described a positive link between social and financial performance as the 'Holy Grail' of research on business and society, because it would resolve the ongoing debate about the social responsibility of companies.
Challenge business practices
Marti and Gond argue that under certain conditions, a theory on a positive CSP-CFP link will not just describe this link, but will also change it. Then, the link will shift the practice of business actors towards corporate social responsibility. If that happens, the theory has become self-fulfilling. In order to establish the conditions under which this happens, Marti and Gond developed a model based on the various research into the CSP-CFP link.
The model establishes that in order for a theory to become self-fulfilling, the theory must first challenge existing business practices. If there are also 'tools' that make elusive elements in the theory visible, like Bloomberg's CSP 'scores' of companies, and the theory is endorsed by high-status academics and corporations, companies can then start to experiment with the new theory.
Contradicting expectations
The more they experiment, the higher the likelihood that they will produce effects that contradict widely shared expectations but are in line with the new theory. For example, a pay-what-you-want policy by restaurants may contradict widely shared expectations about the restaurant business and, ultimately, increase their profits.
If these new, successful effects are visible to the outside world and don't encounter significant resistance, more companies will adopt the new practices, especially if they are not satisfied with the status quo. If, finally, convinced people and companies make sense of the newfound effects to unconvinced players and win a significant number of them over, the initial experiments will become a widely shared practice. In the case of the link between corporate social practices and corporate financial practices, it would mean that corporate social responsibility becomes the norm for companies. Companies that exhibit low social performance might find it harder to find support from key stakeholders such as investors and customers. A theory which unites good corporate social practices and good corporate financial practices thus becomes self-fulfilling.
So, companies that keep an eye on new scientific theories and experiment with them, could become the early adapters of new standard practices. This means that keeping up with science could get organisations ahead of the competition.
Read the article here: Marti, E.S. & Gond, J. (2018). When do theories become self-fulfilling? Exploring the boundary conditions of performativity. Academy of Management Review.
Rotterdam School of Management, Erasmus University (RSM) is one of Europe's top 10 business schools. RSM provides ground-breaking research and education furthering excellence in all aspects of management and is based in the international port city of Rotterdam – a vital nexus of business, logistics and trade. RSM's primary focus is on developing business leaders with international careers who can become a force for positive change by carrying their innovative mindset into a sustainable future. Our first-class range of bachelor, master, MBA, PhD and executive programmes encourage them to become critical, creative, caring and collaborative thinkers and doers. Study information and activities for future students, executives and alumni are also organised from the RSM office in Chengdu, China. www.rsm.nl
For more information about RSM or this release, please contact Ivo Martijn, media officer for RSM, on +31 10 408 2028 or by email at martijn@rsm.nl.