RSM Discovery Magazine 35: out now! Tuesday, 11 September 2018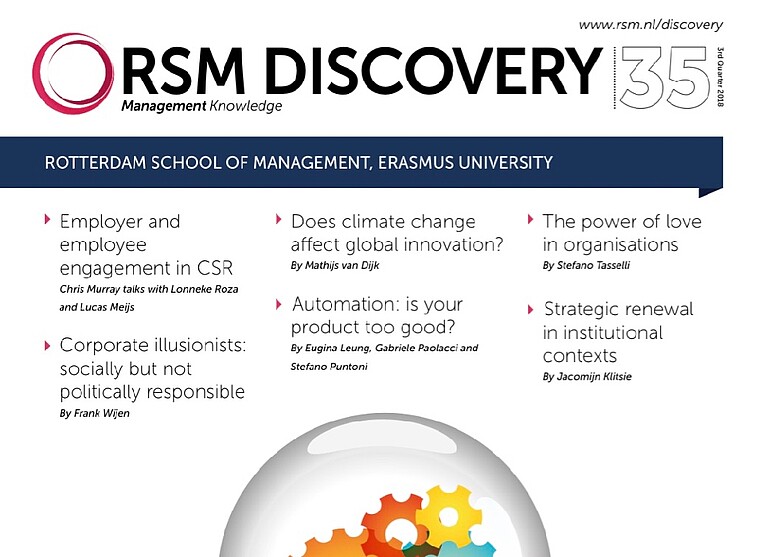 RSM Discovery Magazine 35 (PDF) is out now, with an in-depth coverage of these topics:
The value of understanding human factors when seeking employee engagement in the implementation of corporate social responsibility (CSR) initiatives.
Why organisations must behave responsibly both socially and politically.
The impact of climate change on societal innovation through the ages.
Identity-based consumer behaviour and why customers might reject your innovations.
Harnessing the power of love in organisations.
Change versus stability and the impact of individuals.
Here's what editor-in-chief professor Henk Volberda has to say about this latest feature:
Whatever your strategy, human factors matter
Managers considering the positive impact their organisations can have when strategising sustainability is- sues would do well to pay equal attention to internal dimensions as well as external ones. When working towards the betterment of society, whether through agendas such as the UN's Sustainable Development Goals or independent strategies, firms cannot achieve much in the way of societal 'good' if they are not uniformly aligned internally about what they wish to achieve.
As Dr Lonneke Roza and Prof. Lucas Meijs explain in the article on p05, successfully implementing CSR ini- tiatives within organisations has been overly simplified. Ensuring matching levels of engagement between corporate strategy and individual expectations or desires is, they explain, all about finding congruence. Congruence also features in Frank Wijen's article (p08), in which he challenges the leaders of corporate organisations to ensure public posturing about CSR and behind-the-scenes political manoeuvrings are not at odds with one another. Companies, Wijen says, must behave responsibly both politically and socially.
External pressures affecting society's need to innovate is the subject of Prof. Mathijs van Dijk's article (p11), in which he outlines recent research showing how, across centuries, climatic shocks have had a powerful influence on our technological and scientific development. Innovation, especially in consumer products, is essentially driven by the pursuit of improvements for end users. Yet as Eugina Leung, Dr Gabriele Paolacci and Prof. Stefano Puntoni show in their article (p14), consumers can sometimes find the supposed benefits are actually to the detriment of the product's perceived value.
The inner perspectives and feelings that we all have as individuals, and specifically in relation to the complex nature of love as understood through the concepts of Eros, Philia and Agape, is an area long overlooked by management scholars. Dr Stefano Tasselli, in his article on p17, puts forward the belief that understand- ing love in a workplace context can give meaningful insights into how organisations function at the hu- man level, and with positive effects. Human factors and motivations are very much integral to Dr Jacomijn Klitsie's article (p20), in which she explores the impact of the individual on innovation, particularly in rela- tion to organisational change processes.
In many respects the articles in this issue of RSM Discovery magazine emphasise the importance of hu- man factors to the inner congruence – or harmony – of organisations, particularly relative to how these organisations, their strategies, identities and reputations, are perceived externally. In a world, indeed, in an age where organisations strive to be seen in a positive and friendly light, and while often overlooking the complex human factors involved, perhaps it is appropriate to borrow the words of Roman poet Ovid, who said so succinctly that, if you want to be loved, be lovable.