RSM Discovery Magazine 36: out now! Monday, 14 January 2019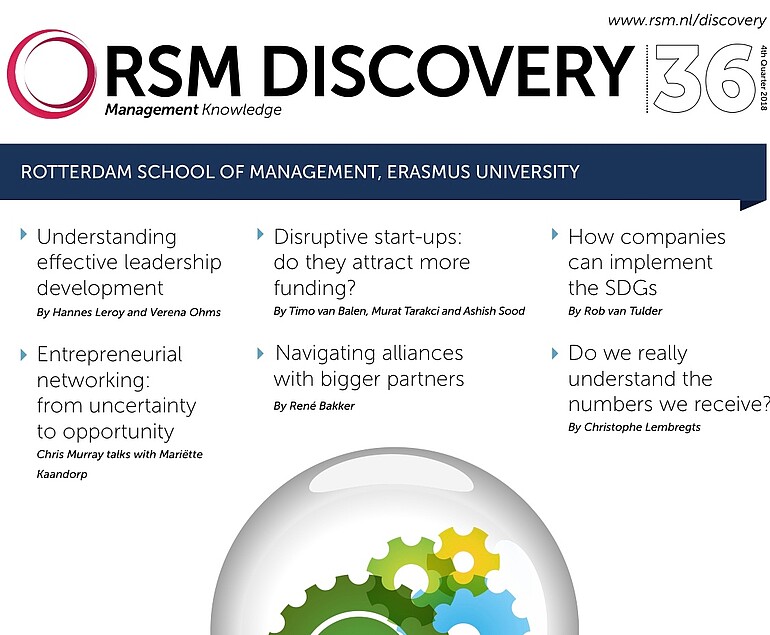 RSM Discovery Magazine 36 (pdf) is out now, with an in-depth coverage of these topics:
Understanding effective leadership development
Entrepreneurial networking: from uncertainty to opportunity
Disruptive start-ups: do they attract more funding?
Navigating alliances with bigger partners
How companies can implement the SDGs
Do we really understand the numbers we receive?
Here's what editor-in-chief professor Henk Volberda has to say about this latest feature:
Making positive change a reality
When world leaders agreed on the 17 UN Sustainable Development Goals (SDGs) in 2015, it signalled what many consider to be a paradigm shift in that they represent, to quote the UN, 'the blueprint to achieve a better and more sustainable future for all.'
However, while the goals provide a focus for business, civil society organisations and governments to collaboratively bring about real change in the world, firms in particular must speed up their adoption of the SDGs and ensure that this is more than just symbolic. Effective implementation of the goals requires open debate and interaction between all layers of the organisational strata, and with the broadest range of stakeholders – otherwise there can be no shared meaning or collective purpose. Firms, therefore, must strategize their involvement with and support of the SDGs.
To help firms do exactly this, Rob van Tulder, Professor of International Business-Society Management at RSM, has recently published Business & The Sustainable Development Goals: A Framework for Effective Corporate Involvement. In his article in this issue of RSM Discovery magazine, Prof. Van Tulder explains his framework and states that: 'Companies should begin to view the SDGs not as challenges but as vibrant new opportunities...' This is a view that needs to be taken by all business leaders. Read more on page 17.
In addition to eco-sustainability, smart-thinking firms understand the critical value of human sustainability – the empowerment of human resources and the ongoing development of talent. On page 5, we explore the approaches being taken by the Erasmus Centre for Leadership to help organisations successfully manage human capital through the development of executives who are fully prepared to tackle the complexity of challenges businesses face today.
In other articles, Mariëtte Kaandorp explains how entrepreneurs can network successfully when the future is unpredictable. Entrepreneurship also features in Timo van Balen and Murat Tarakci's article in which they examine whether disruptive start-ups attract more funding or not (page 11). On page 14, René Bakker provides informed insights into how start-ups and smaller organisations can successfully negotiate alliances with firms that are much larger. Finally, Christophe Lembregts looks at why numbers – specifically how they are presented – play an important role in how consumers evaluate products (page 20).
All told, I am sure you will find the articles in this latest edition of RSM Discovery magazine to be both interesting and informative, and I welcome any feedback you might have.