BLOG: Looking through the positive safety lens Thursday, 28 February 2019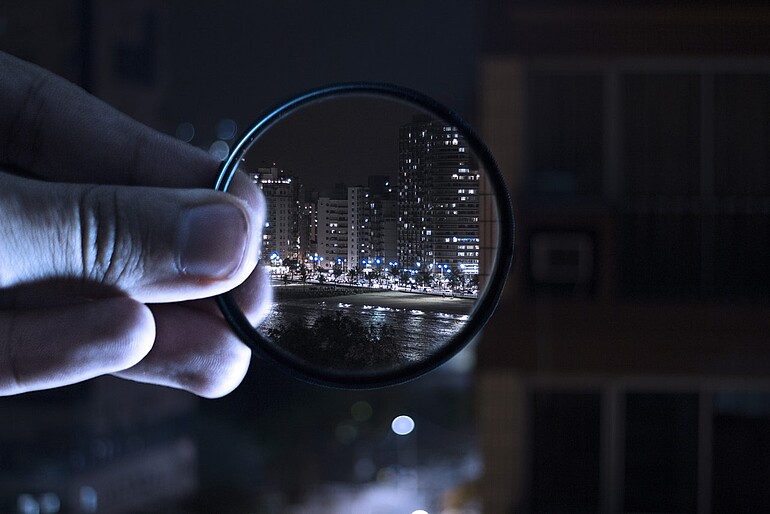 Centre of Excellence in Public Safety Management (CESAM)​ at Rotterdam School of Management, Erasmus University (RSM) aims to promote and foster the professional development and management of public safety organisations on an international level. CESAM researcher Dr Ilona Suojanen wrote this blog about safety, in which she looks at the topic through a happiness lens, which makes her a happyologist. As a lover of lenses, she has now created a new lens for looking at safety: the Positive Safety Lens. Here she writes about how it can be beneficial in understanding the drivers of our perception of safety, and can help to function as a policy-making tool by showing alternative consequences and solutions – and also how it can be used in the future.
Feeling safe is a birthright. Safety has a massive impact on our wellbeing and it affects how we live our lives. The Western world has never been this safe before, yet the levels of stress and worry have actually reached a new high. They are triggered by worrying developments such as climate change and refugees, but also by social reactions like polarisation and radicalisation, which undoubtedly shake up what it means for us to feel safe. This is a grand societal challenge. Therefore, alternative and innovative ways to tackle the insecurities and fears are needed. Governments are spending billions of euros on reducing crimes, but we at CESAM argue that in addition, we should also focus on promoting aspects that make people feel safe.
Is safety actually about lack of safety?
Research and discussions about safety are largely characterised by a negative view – namely the absence of safety – and almost exclusively focus on threats and risks. Safety is often defined as the absence of accidents and incidents, and hence provides definitions of lack of safety. All this refers to safety as a "double negative" – the absence of feeling unsafe, but does not include the positive sensations of safety itself.
A focus on threats and risks reduces the list of safety providers to only those who are experts in threat mitigation (e.g. police, fire brigade) and might underestimate the relevance of contextual and social influence factors on safety perceptions.
The approach to safety has also been to find a cause that explains the incident, and to provide suggestions to fix the procedures or outcomes. Therefore the focus of studying safety has mainly been on looking into situations when something has gone wrong and what has caused it in order to eliminate it and to prevent future accidents.
Not only should the underlying assumption of causality be questioned, but if risks and absence of accidents are studied, then risks and absence of accidents are studied, not safety. Also, isn't it more scientific to study something that is, than that what is not?
The Positive Safety Lens
Look at it another way. In order to look at safety from a positive, holistic and sustainable angle and to search for new solutions for grand societal challenges involving safety, we created a new approach, the Positive Safety Lens (PSL) which complements and balances the more traditional approach to safety. It is a combination of seven different attributes, which all aim to understand safety as a positive experience:
1) Subjective
Focuses on the human approach and the perceived safety, looking into a range of emotional and embodied sensations of people.
2) Present
Emphasises the double positive: the presence of the feeling of safety.
3) Holistic
Looks into safety from a multidisciplinary approach and uses rich sources of information to fully understand the concept. Emphasises the importance of co-creation, creating together with people. Takes into consideration social and cultural contextual influences.
4) Optimal
Interested in finding out what is optimal safety for all, acknowledging that people have different needs for safety.
5) Positive
Looks into safety as an important factor in the quality of life and people's wellbeing, aiming to understand how wellbeing and safety are intertwined.
6) Supportive
Aims at increasing, prolonging and supporting safety by looking into opportunities and safety signals, and providing suggestions for safety promoters, boosters and advocates. It focuses on safety of, for and by people, and helps them to find their strengths and aspirations, aiming for human fulfilment.
7) Sustainable
Highlights safety as a crucial domain of good and happy lives, looking into long-term safety and safety for all in this interconnected world, where safety for all is safety for all. Highlights freedom as the core purpose of human safety.
Safety, like any emotion and human experience, is a complex system and a combination of not only attention, language processing, memory, hormones and arousals, for example, but also influenced by factors on the level of the individual, group, community and country. Therefore, a multidisciplinary approach that combines several different fields such as safety studies, management studies, psychology, sociology, neuroscience and philosophy, is not only explanatory, but required. The consequences can relate to technology, engineering, environment, health, security and finance.
The benefits of using PSL
Using PSL can lead to a better understanding of how feeling safe is an important factor in living a good life. It is not created to replace the traditional approach, but to provide a complementary and more balanced approach to safety. PSL acknowledges individuals as important knowledge-producers and enhances the co-creation of knowledge with individuals, in opposition to paternalistically dictating requirements, orders and actions for safety to citizens. Instead of "securing public space from the public" PSL focuses on safety of, for and by people, and helps them to find their strengths and aspirations.
Understanding the concept of safety as something which is present as well as being the goal can lead to very different approaches, results and practices than when looking at safety as 'the absence of fear, crime and negative experiences'. A variety of actions and strategies to enhance the public perception of safety are most likely needed – compare this with the typical procedures used for preventing crimes. In addition, there is a need to investigate making public places in cities safer for people without restricting or destroying the liveliness and positive aspects of city living, such as diversity and freedom. Indeed, what is the use of safe cities, if we cannot enjoy them freely? This is where looking through the PSL can be beneficial.
The PSL can add to the understanding of the drivers of safety perceptions and safety as a phenomenon, and can help to function as a policy-making tool by showing alternative consequences and solutions, also for future needs, as it aims to predict what might follow. Asking different questions leads to different solutions. In addition to the threats to safety, we should also look for promoters that increase the perceptions of safety. This could increase safety without restricting or destroying the liveliness and positive aspects of living, such as diversity and freedom. We want safety for people, not from people.
We are already using this lens in our study on perceived safety in public spaces in Rotterdam. As we ask people to show us what makes them feel safe outside their private homes using photos, we also invite them to co-create a better understanding of safety with us. The PSL will also be informing our future activities such as MOOC courses and books on safety management. Stay tuned to hear more. Also, if you are interested in collaborating with us or contributing to the development of PSL, please contact Ilona Suojanen.
This blog originaly appeared in a series of blog posts about aspects of safety from CESAM.
For more information about RSM or this release, please contact Ivo Martijn, Media Officer for RSM, on +31 10 408 2028 or by email at martijn@rsm.nl.
Rotterdam School of Management, Erasmus University (RSM) is one of Europe's top 10 business schools. RSM provides ground-breaking research and education furthering excellence in all aspects of management and is based in the international port city of Rotterdam – a vital nexus of business, logistics and trade. RSM's primary focus is on developing business leaders with international careers who can become a force for positive change by carrying their innovative mindset into a sustainable future. Our first-class range of bachelor, master, MBA, PhD and executive programmes encourage them to become critical, creative, caring and collaborative thinkers and doers. Study information and activities for future students, executives and alumni are also organised from the RSM office in Chengdu, China. www.rsm.nl
Photo: CC0.