RSM Discovery magazine 37 – out now! Tuesday, 11 February 2020
The latest edition of RSM Discovery magazine has just been published. The issue is devoted to helping managers understand the benefits of data analytics in an age where big data, the Internet of Things, and artificial intelligence have become woven into the very fabric of our lives.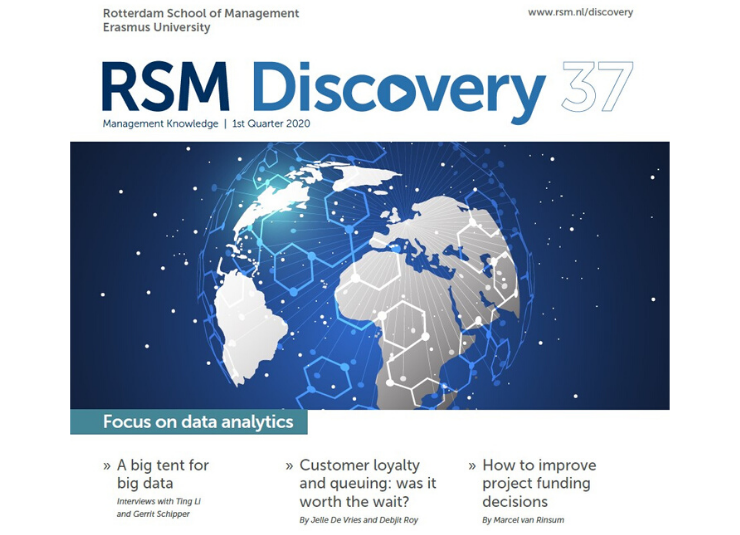 Download your free copy of RSM Discovery magazine (pdf) and stay ahead of the competition by thinking business the RSM way.
As guest editor, Ting Li, Endowed Professor of Digital Business and Academic Director of the Erasmus Centre for Data Analytics states, the real value for managers "comes not from the complexity of the data itself, but from the strength and quality of the insights we gain from it." Put another way, she says, "data analytics is the Rosetta stone of our age."
The articles in this issue explore:
- How the recently formed Erasmus Centre for Data Analytics is helping managers to create long-term value from data through multidisciplinary collaborations, research and education.
- How the partnership between Coolblue and RSM is yielding practical benefits for both parties.
- Churn management: why taking a proactive approach can help businesses retain customers.
- Social influence marketing: new ways to influence consumer behaviour on social networks.
- How customer investors can aid crowdfunding success.
- Balancing smart energy grids with the power of electric vehicles.
- Improving project funding decisions through process accountability.
- Queuing: using data to understand the effect of waiting times on customer experiences.
Click here for seperate articles and former Discovery magazines.
Rotterdam School of Management, Erasmus University (RSM) is one of Europe's top-ranked business schools. RSM provides ground-breaking research and education furthering excellence in all aspects of management and is based in the international port city of Rotterdam – a vital nexus of business, logistics and trade. RSM's primary focus is on developing business leaders with international careers who can become a force for positive change by carrying their innovative mindset into a sustainable future. Our first-class range of bachelor, master, MBA, PhD and executive programmes encourage them to become critical, creative, caring and collaborative thinkers and doers. Study information and activities for future students, executives and alumni are also organised from the RSM office in Chengdu, China. www.rsm.nl
For more information about Discovery, please contact Irene Bosman, communications manager for RSM, on +31 10 408 2028 or by email at bosman@rsm.nl