Tips: Marking the boundaries between home and work Thursday, 23 April 2020
Tips from research for achieving balance when you're working from home, by Dr Rebecca Hewett, Assistant Professor in the department of Organisation and Personnel Management at RSM. Her research focuses on the interface between HR practices and people's everyday experiences at work.
So how is working from home going for you? Are you up fresh and early every morning, working out, then having a relaxed breakfast with your family, before sitting down to a productive day at your computer while your children work quietly next to you? Have you written that novel yet? Managed to learn a new language? No, I thought not…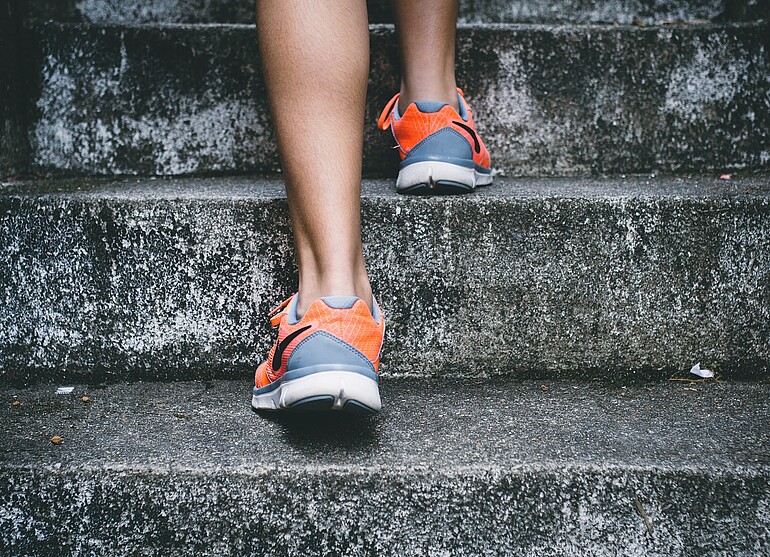 For those of us lucky enough to have flexible jobs which we can do at home during this crisis, one of the biggest challenges we're facing day-to-day is achieving balance.
In order to operate at our best, human beings need to have their three basic psychological needs satisfied. These are:
Autonomy: A sense of choice in how you go about your day
Competence: A sense of achievement in your day-to-day activities
Relatedness: A sense of connection with important people in your life.
When our basic psychological needs are satisfied, we thrive. We are more effective in our work and home lives, we experience better wellbeing and health, and the benefits of needs that are satisfied in one part of our lives can spill over into another. But when these needs are frustrated, the opposite is true.
For many of us right now, the uncertainty and lack of control in the world around us, the difficulties of balancing new demands and challenges, and the lack of direct personal connection with our family, friends and colleagues is threatening to undermine how we satisfy our basic needs.
The good news is that research suggests that we can take proactive steps to help satisfy these needs through crafting. Crafting describes the adaptations that people make to their daily work- and non-work lives – the way that they do tasks, who they connect with and how, and how they think about the things that they do. By crafting, individuals aim to find a balance between the energetic resources that they need to get through the day, and the day-to-day demands that they must face.
Crafting your work-home boundaries
How do you craft your work and home to help you to feel at your best?
Do a needs audit. If you're finding things difficult at the moment, can you identify why? What is it about your life that might, or might not, be satisfying your basic psychological needs?
Maybe you are getting plenty of things done but you're missing that human connection (so your need for relatedness isn't satisfied). Maybe you have plenty of connection with your colleagues and family but you feel as though you don't have any control about things that are happening around you (so it's autonomy that's lacking). Or perhaps you feel that despite your best efforts you are getting nothing done (so your need for competence is the issue). Identifying the source of your frustrations is the first step because then you know what gap you need to fill.
Craft your day. There are lots of ways that you can craft both your work and non-work time and these changes don't need to be big. If you feel you're not making any progress during your working day, taking 15 minutes out to watch a video or read some articles which you find interesting could help satisfy your need for competence. Or taking time to call or video chat with a colleague about a non-work related activity could help you to feel greater relatedness.
Maybe you think that you don't have time to even think about making these adaptations. Well, our research suggests that people are actually more likely to craft their home lives when they have a lot to do, because crafting helps you to get things done more effectively. You might find that you are already making proactive adaptations in one part of your life that you can harness in another. Maybe the way that you're helping your children stay amused with little tasks during the day could be applied to your own work, for instance?

Focus on your achievements across the whole day. The good news is that you can make up for a frustrating day of work by celebrating achievements in your personal life, and vice versa. Maybe you managed to help your daughter learn some new words, you did a workout this morning, or cleaned out The Drawer of Mysterious Things. Maybe home life seemed a bit chaotic, but your meeting with your client went really well. Great! Our research found that feeling a sense of competence in one life domain (home or work) can compensate for frustration in another. So think about your day as a whole and celebrate the small wins. I have been keeping a brief list of things I've achieved at work and in non-work time each day. If work didn't go so well today, I focus on that run I finally did in the evening. It helps me to feel a sense of competence in my day.

Ask for help. One of the most effective ways to gain the resources you need to get through your day successfully is to ask for help. This could be help from your boss, your partner, or other family and friends. Likewise, people are more likely to successfully craft their home life if they feel that they have autonomy. Can others around you help you to gain a sense of control?
Big picture takeaways
Think about your day as a whole. Work and non-work time are not separate, but we can harness energy from one to help us thrive in the other.
These tips were compiled by Rebecca Hewett from Rotterdam School of Management, Erasmus University (RSM), based on academic research.
Crisis-related Research Series
This article is part of our crisis-related research series: a growing collection of research-based thought pieces and opinions from RSM's academics and researchers. Topics range from tips for battling loneliness to the ethical dilemmas faced by managers and leaders.
Reference list:
Demerouti, E., Hewett, R., Haun, V., De Gieter, S., Rodríguez-Sánchez, A., & Skakon, J. (in press). From job crafting to home crafting: A daily diary study among six European countries. Human Relations. https://doi.org/10.1177/0018726719848809
Hewett, R., Haun, V. C., Demerouti, E., Rodríguez Sánchez, A. M., Skakon, J., & De Gieter, S. (2017). Compensating need satisfaction across life boundaries: A daily diary study. Journal of Occupational and Organizational Psychology, 90(2), 270–279.
Petrou, P., & Bakker, A. B. (2016). Crafting one's leisure time in response to high job strain. Human Relations, 69, 507–529.
van Hooff, M. L. M., & Geurts, S. A. E. (2015). Need satisfaction and employees' recovery state at work: A daily diary study. Journal of Occupational Health Psychology, 20, 377–387.
Rotterdam School of Management, Erasmus University (RSM) is one of Europe's top-ranked business schools. RSM provides ground-breaking research and education furthering excellence in all aspects of management and is based in the international port city of Rotterdam – a vital nexus of business, logistics and trade. RSM's primary focus is on developing business leaders with international careers who can become a force for positive change by carrying their innovative mindset into a sustainable future. Our first-class range of bachelor, master, MBA, PhD and executive programmes encourage them to become to become critical, creative, caring and collaborative thinkers and doers. Study information and activities for future students, executives and alumni are also organised from the RSM office in Chengdu, China. www.rsm.nl
For more information about RSM or this article, please contact Danielle Baan, Media Officer for RSM, via +31 10 408 2028 or baan@rsm.nl.