Blog: Vaccination logistics can reduce waste and delays Thursday, 17 December 2020
After an exceptionally fast development process, the EU is set to approve the first Corona vaccines. The next step is to inoculate hundreds of millions of people quickly, safely and without losing any of the precious stocks of vaccine. This is an unprecedented challenge because of the great uncertainty of supply and demand, the enormous scale and the complex logistical requirements of this delicate cargo. Prof. Jan Fransoo, professor of operations and logistics management at Tilburg University and Eindhoven University of Technology and Dr Niels Agatz, associate professor of transport and logistics at Rotterdam School of Management, Erasmus University (RSM) have three important insights to share.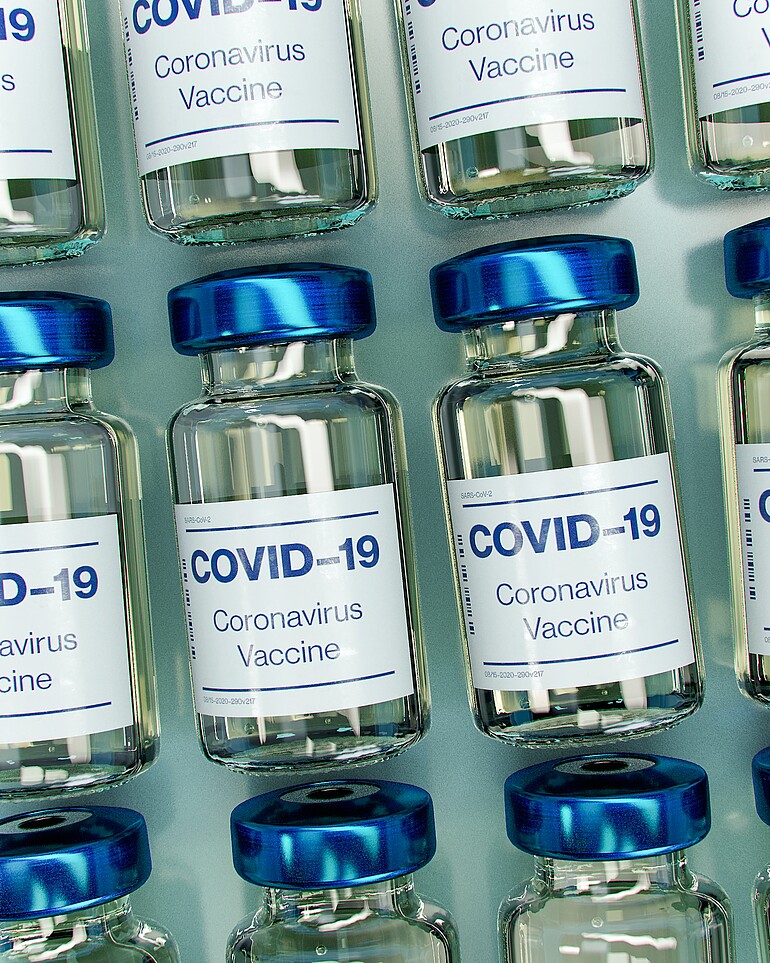 The vaccine has a limited shelf life and requires specialised cooling throughout the transport chain; add to this some people's unwillingness to be inoculated and the effect this has on predicting precise demand at any given moment, and the logistics picture starts to feature real difficulties.
Most countries have already started planning and designing their logistics strategies to support Corona vaccination programmes. After the incredible speed with which vaccines have been developed, a vaccination campaign blighted by logistical problems would be a disastrous outcome. Fortunately, there are some fundamental and proven insights from the science of operations and logistics that can contribute to a rapid and effective roll-out of vaccinations and minimize wasted doses. For example, Fransoo and Agatz say that losing between 10-20 per cent of vaccines – which is expected by the Dutch health authority RIVM – is not only unacceptable, but also unnecessary.
1. Working with larger locations leads to less vaccine waste.
Centralizing logistics operations can give more flexibility in the face of such great uncertainty about supply and demand. That means using fewer locations for vaccine storage and for inoculating people, for example 30–50 locations around the Netherlands, or a single location in a city like Hamburg. While it is difficult to estimate how many people want to be vaccinated, managing stocks at a limited number of central locations throughout the EU means that demand estimates for each location need be on a scale of between several hundred thousand up to a few million people. The alternative – to make demand estimates for only thousands or hundreds of doses at thousands of local clinics and general practitioners' offices – means dealing with a much bigger relative variance and uncertainty. Doses that are surplus to requirements because uptake is lower than anticipated would have to be collected and redistributed to other locations where people are waiting to be vaccinated.

No back-and-forth

Some countries are small enough to arrange this effectively, but that's irrelevant here: the point is that moving small surpluses of vaccines back and forth between thousands of family doctors will lead to doses spending time in transit while their short shelf life dwindles away. In addition, every extra journey for a dose of vaccine means extra touch points and the increasing likelihood of physical damage or variations in the temperature at which the vaccine is held. If there were plenty of vaccines – as there usually are with the annual influenza vaccination campaign – vaccine losses would not be a serious problem; the small quantities that are expired could be destroyed without serious consequences. But when health authorities anticipate shortages of the Covid-19 vaccination for at least another six months, losing any vaccines is highly undesirable.
If a far-reaching decentralized strategy is implemented, Fransoo and Agatz say the burden on family doctor practices could be huge. It is very likely that vaccines will be delivered in large and unpredictable numbers, and local practices will have to organise inoculations for a lot of relatively small groups at very short notice. This would be very difficult for family doctors to organise. It would be better for everyone to avoid that as much as possible.
2. Linking every decentralized vaccination site to one of the major vaccination centres reduces the risk of vaccine loss
Managing vaccine stocks at central locations does not automatically mean vaccinations on a small scale cannot be done. When there is really no other option, small scale vaccination sessions can be organised. This is especially important for people who cannot travel to one of the central locations; people in poor health, or with limited mobility. Small locations such as nursing homes, mental health institutions and family doctors can get vaccines from larger locations via small frequent deliveries. It is logistically robust to arrange this fine-meshed distribution from the same large locations so that stock can be easily redistributed in the event of surpluses at decentralized locations.
Such hub-and-spoke systems are very common in logistics, for example in grocery retail supply chains, and there is already a lot of expertise in the logistics community to set it up properly. It's important to realise that the number of decentralized locations and the associated logistic operations need to be kept to a minimum. It makes sense, for example, to group nursing homes around a central location or hub to create manageable complexity in the system.
3. Creating bigger vaccination centres makes the system flexible and robust
In conditions of great uncertainty, timely preparations are essential. Waiting until all uncertainties have been resolved often means that we cannot react quickly enough. When scaling up the capacity of vaccinations, Fransoo and Agatz recommend taking as many scenarios as possible into account, and examining the probabilities and the consequences of various choices in different scenarios.
Too much capacity means hiring more people than needed and deploying more distribution locations than required, but will result in a system that is faster, more effective and more agile in the face of changes in demand and supply. Too little capacity can cause delays in distributing and administering vaccines. Too little capacity may also lead to people queuing in long lines – increasing the risk of spreading the virus. Given the huge social and economic damage that the Coronavirus is doing to society every day, and the relatively low costs of oversizing, Fransoo and Agatz think it is best to plan for significant overcapacity.
Rotterdam School of Management, Erasmus University (RSM) is one of Europe's top-ranked business schools. RSM provides ground-breaking research and education furthering excellence in all aspects of management and is based in the international port city of Rotterdam – a vital nexus of business, logistics and trade. RSM's primary focus is on developing business leaders with international careers who can become a force for positive change by carrying their innovative mindset into a sustainable future. Our first-class range of bachelor, master, MBA, PhD and executive programmes encourage them to become to become critical, creative, caring and collaborative thinkers and doers. Study information and activities for future students, executives and alumni are also organised from the RSM office in Chengdu, China. http://www.rsm.nl
For more information about RSM or this article, please contact Danielle Baan, Media Officer for RSM, via +31 10 408 2028 or baan@rsm.nl