Discovery 39 - The world after COVID-19: how we can do business better Tuesday, 12 January 2021
COVID-19 has taught us that large-scale change is possible in our societies. At the same time, it also makes fighting challenges, such as unethical company behaviour and climate change, harder – primarily because it might take years for societies to overcome the huge economic shock caused by the necessary defensive response against the pandemic, thus making it harder to invest in tackling these challenges.
But there is much that can be done. In this edition of RSM Discovery magazine, we describe how we can learn from our response to the pandemic in order to organise societies so that they can become more resilient. We also describe specific business developments and organisational forms that might be particularly beneficial in the aftermath.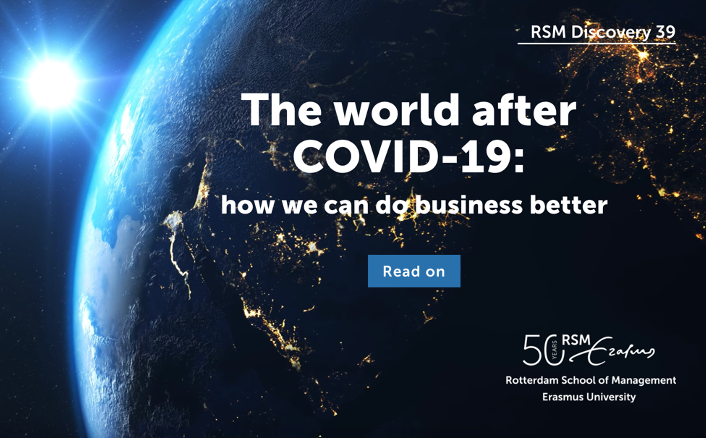 Koen Dittrich discusses the significant challenges involved in fighting climate change and, more specifically, transiting to clean energy and a circular economy. To encourage this, what, he asks, if governments offered tax incentives to large corporations in exchange for reducing their carbon footprint?
In their respective articles, both Rob van Tulder and Steve Kennedy observe that many governments and businesses were unprepared for COVID-19 when, in reality, contingency plans should have been in place because we know that pandemics can happen. Further, Van Tulder asks what we can learn from our responses to the current crisis and posits that the United Nations Sustainable Development Goals can provide a framework for improving our response to the next crisis. Kennedy focuses on the importance of tackling grand challenges systematically, something governmental leaders and businesses fail to do; instead addressing issues such as biodiversity loss, inequality and climate change in isolation.
"In this edition of RSM Discovery magazine, we describe how we can learn from our response to the pandemic in order to organise societies so that they can become more resilient."
Frank Wijen focuses on the role of governments, describing how they can "kill at least two birds with the huge stone they are about to throw into the economy." In essence, he says, they should provide financial support to boost the economy while also requiring companies to reduce their carbon footprint. Tine De Moor examines the rise and post-pandemic value of social enterprises, which she defines as "a special kind of company that people organize not for personal financial gain but to provide public goods that neither the government nor the conventional private sector seems capable or willing to provide."
Lonneke Roza describes corporate foundations, which have "social impact at their core by choice and by design, including their fiscal and legal status." They are focused on public benefit instead of private benefit and as such are vehicles through which business can effectively help tackle large societal challenges such as climate change.
Societal impact is very much at the heart of Dirk Schoenmaker's article, in which he assesses the transition towards sustainable investing, and looks to a time in the not too distant future when "the societal and environmental impact of corporate projects will take over from their mooted financial return as the main driving force behind future investment."
Muel Kaptein provides an overview of the history of interest in business ethics, which to a great extent is build upon large-scale business scandals; he also describes how the pandemic might make it even harder for companies to act in ethical ways and what the role of business schools such as RSM is in this regard. That said, the successful companies of tomorrow, he says, will be those that focus on both profit and purpose, and that business ethics will be very much at the heart of their success.
Finally, Marius van Dijke acknowledges that in times of uncertainty, whether now or in the future, it is highly important for employees to be treated in a fair manner. The article describes a novel take on this topic: not focusing on employees as recipients of fairness, but instead describing factors that make it more likely that leaders actually enact fairness. It is his view that companies empathetically encouraging fairness and social justice will emerge in a better position in the post-pandemic world than those that do not.
Check out the full magazine here: https://publications.rsm.nl/rsm-discovery-39/
Rotterdam School of Management, Erasmus University (RSM) is one of Europe's top-ranked business schools. RSM provides ground-breaking research and education furthering excellence in all aspects of management and is based in the international port city of Rotterdam – a vital nexus of business, logistics and trade. RSM's primary focus is on developing business leaders with international careers who can become a force for positive change by carrying their innovative mindset into a sustainable future. Our first-class range of bachelor, master, MBA, PhD and executive programmes encourage them to become to become critical, creative, caring and collaborative thinkers and doers. Study information and activities for future students, executives and alumni are also organised from the RSM office in Chengdu, China. http://www.rsm.nl
For more information about RSM or this article, please contact Danielle Baan, Media Officer for RSM, via +31 10 408 2028 or baan@rsm.nl