Would you Zoom with your doctor? Friday, 12 February 2021
The popularity of video consultations between patients and physicians accelerated in 2020 to make sure healthcare could be provided without risk of infecting each other with Covid-19. It started as a crisis response, but policymakers and physicians soon also started using video consultations for patients with symptoms of all kinds of illnesses and problems. Do patients actually prefer a consult via video, or would they rather visit a clinic for their doctor's appointments? And does their preference change if the video consultation is available today, while they have to wait three days for an in-clinic appointment? New research by Philipp von Weinrich (MSc International Management/CEMS 2021) and his master thesis supervisor Dr Qingxia Kong from Rotterdam School of Management, Erasmus University (RSM) investigates the influence of consultation mode in appointment choice in combination with other considerations such as waiting time. The study also determines which characteristics make people more likely to choose a video appointment over in-clinic consultations with all other factors being equal.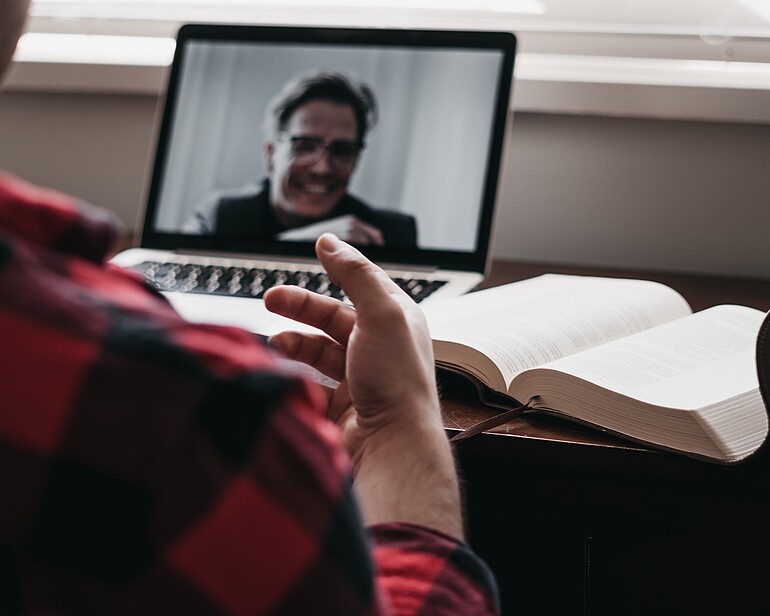 Telemedicine has many benefits, such as convenience and saving travel time to the clinic, and significant advantages for the healthcare system. Evidence (Ekeland et al., 2010; Hersh et al., 2001) shows that telemedicine can decrease healthcare costs, increase the quality of care, and improve access to care for people in remote areas or who can't get to clinics easily. Despite such apparent benefits, digitisation in healthcare has been relatively slow. Understanding patient preferences will ultimately lead to better insights on how to increase the adoption of telemedicine.
"Around 2 in 5 people prefer a video consultation to an in-clinic visit if that means they can avoid a 30-minute waiting time."
The experiment
Von Weinrich and Dr Kong examined the relative importance of consultation mode – video versus in-clinic – compared to other appointment factors in a non-urgent scenario where a physical examination is not necessarily required :
The earliest time you can see the doctor – is the next available appointment today, tomorrow, or in a week?
Waiting time on appointment day: the time you spend in the waiting room (or near your device) before you get to see the doctor on the appointment day.
Continuity of care: talking to a familiar physician who has access to your medical history, and with whom you have an interpersonal relationship.
They also investigated which patient characteristics, like frequency of GP visits, technology and online privacy concerns, affect preferences for video over in-clinic consultations.
An online survey was conducted among 459 participants, of which 350 (76.3%) complete and valid responses were included. The sample was representative of the German adult population in gender and age. The survey consisted of a questionnaire and a discrete choice experiment. In a discrete choice experiment, participants repeatedly select one of several options. In their experiment, there were two options for an appointment with a primary care physician (general practitioner) and an option to opt out (not see any doctor given the appointment options provided) in each choice task. The appointment alternatives are – as in real life – described by different attributes (e.g., waiting time on appointment day) with attribute levels (0 minutes, 30 minutes, or 60 minutes), which differ across the alternatives. Based on the repeated choices participants make, they determined not only the relative importance of an attribute in appointment choice but also how a change in an attribute level would affect the choice probability of that option.
With video consultations, people want it fast
Continuity of care (46%) and time until the next available appointment (22%) were shown to be of higher relative importance than the consultation mode (18%), waiting time on appointment day (13%), and opening hours (1%) in the appointment choice of participants.
But, further investigation showed that the relative importance depended on the consultation mode. When people opted for a video consultation, time until the next available appointment (33%) was shown to be almost as important as continuity of care (35%). So a short waiting time for an appointment was almost as important as talking to a familiar doctor. When people opted to visit the clinic, continuity of care (54%) was shown to be twice as important as the time until the next available appointment (27%). So people with in-clinic appointments found it far more important to talk to a familiar doctor than to have an earlier appointment.
Although participants still preferred in-clinic over video consultations if all else was equal, around two in five participants chose the video consultation option over a typical in-clinic appointment with the right characteristics of the video option.
Participants indicated that data privacy concerns and a lack of technology proficiency are key barriers to telemedicine adoption. The fear of becoming infected with Covid-19 also gave participants a stronger preference for video consultations.
Commercial video consultation platforms
Many commercial video consultation platforms offer opening hours beyond typical medical clinic times and promote it as a critical benefit of their services. This study shows that participants did not value after-hours medical service in the evenings or at night. The limited influence of longer opening hours on appointment choice suggests that providers of video consultations could reduce after-hours service without losing patients as long as they keep the other attributes unchanged.
Video consultation providers should focus on decreasing the time until the appointment and increasing continuity of care instead of longer opening hours. While many video consultation platforms can offer an appointment today or the next day in most cases, many services lack continuity of care. Strategies to improve the level of continuity of care include implementing features that allow patients to consult with the same doctor from their first consultation, and collaborating with more general practitioners (GPs) from clinics so that more patients can talk to their usual GP on the platforms instead of to an unfamiliar doctor.

GPs offering video consultation
For patients with non-urgent issues that seek a video consultation, having the consultation as soon as possible is almost as important as talking to their usual GP. Those who seek consultation in person prefer to wait a few days for their appointment if it means that they can consult with their usual GP. To maximise overall patient satisfaction, care providers should consider different preferences depending on the consultation mode when allocating appointments. One strategy could be to establish an in-clinic network for video consultations among the physicians who work in the same clinic. It would enable physicians to balance the demand for video consultations among each other so that patients seeking a video consultation can be offered a consultation as soon as possible. For patients seeking an in-clinic consultation, the physicians would still work independently as those patients place a far higher value on talking to their usual physician than on having a timely appointment.
Stimulating video
Two in five participants would choose a video consultation with the best characteristics over a typical in-clinic visit or opt out. Policymakers should implement strategies to make sure that patients get an appointment as soon as possible and are able to talk to their usual or at least a familiar physician. The importance of continuity of care seems noteworthy as many video consultation services today offer only a low level of care continuity.
---
The paper hasn't been published yet but is available at SSRN working paper series.
Rotterdam School of Management, Erasmus University (RSM) is one of Europe's top-ranked business schools. RSM provides ground-breaking research and education furthering excellence in all aspects of management and is based in the international port city of Rotterdam – a vital nexus of business, logistics and trade. RSM's primary focus is on developing business leaders with international careers who can become a force for positive change by carrying their innovative mindset into a sustainable future. Our first-class range of bachelor, master, MBA, PhD and executive programmes encourage them to become to become critical, creative, caring and collaborative thinkers and doers. Study information and activities for future students, executives and alumni are also organised from the RSM office in Chengdu, China. www.rsm.nl
For more information about RSM or this article, please contact Danielle Baan, Media Officer for RSM, via +31 10 408 2028 or baan@rsm.nl.