Don't stress and drive Tuesday, 15 June 2021
How good is your driving on stressful days? Most road traffic accidents happen on the drive home from work. This implies that experiences at work can affect driving safety on the way home, but little is known about this. New research by Dr Rebecca Hewett from Rotterdam School of Management, Erasmus University (RSM), Dr Michael Clinton from King's College London, Prof. Neil Conway from Royal Holloway, University of London and Dr Damian Poulter from University of Greenwich reveals which characteristics of the working day have implications for road safety, and why.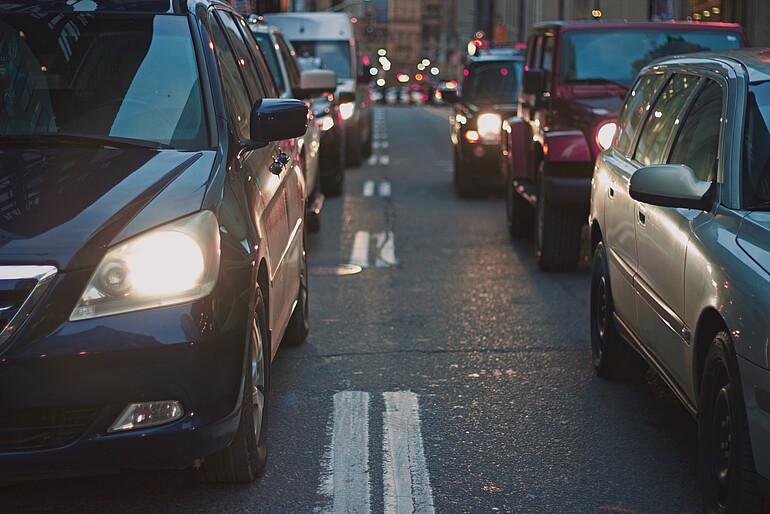 Limited amount of willpower
When people have to use their willpower at work – for example by resisting distractions or regulating their emotions – they often have less willpower to use later in the day. The researchers examined the implications of this depleted willpower beyond the work day, and examined why these stressors spill over to non-work time.
Testing driving behaviour
They carried out two studies. In the first, 55 working adults in the UK, who regularly commuted on the same journey, completed a survey twice a day for 10 days (adding up to 499 days of data altogether) – at the end of work and after they drove home. The researchers also collected data on their driving behaviour through telematics – a box plugged into their car which monitored driving speed every second, relative to the speed limit. This allowed the researchers to monitor how many seconds they exceeded the speed limit on their drive home.
In the second study, 133 other working adults completed two surveys on a single working day – after work and after they drove home. In this survey, they self-reported their driving behaviour.
"Commuters are more likely to speed on the way home when they have to resist distractions and control their emotions during a work day"
Speeding predictors
Two stress-related characteristics predicted speeding on the way home:
On days when people needed to resist many distractions at work, they were more likely to speed. This was because they paid less attention during their drive home.
On days when people needed to control their impulses during work – for example by not showing their frustrations or annoyances – they were more likely to speed. This is because they were 'sensation seeking' (taking risks) while driving, which only happened on days when they were in a bad mood on the drive home.
Venting frustrations helps
Distractions are inevitable at work. But, work can be designed to try to reduce these distractions, for example by providing more quiet spaces and software to reduce IT distractions (pop-ups). Organisations can also try to reduce the extent to which employees are required to regulate their emotions at work, for example if they have to provide 'service with a smile' and hide their emotions to customers. In such situations, organisations could encourage employees to vent their frustrations to colleagues or their manager in order to mitigate this.
Taking regular breaks
These kinds of demands can also be reduced by encouraging employees to take regular breaks, which enables them to build their resources back up, especially on days which are particularly demanding. This applies even more in work environments where they are more distractions such as busy, open plan offices and lots of emails, chats and notification pop-ups, or work environments where people need to regulate their emotions such as busy customer service or client facing jobs.
"Organisations should try to reduce distractions and help people to express their emotions at work"
Driving is dangerous enough
Pre-Covid-19, driving was the main commuting mode for the majority of the population in most developed countries (86 per cent of Americans; 67 per cent of Britons; and 65 per cent of Dutch working adults). The number of people injured in road traffic collisions (RTCs) in the United States exceeds 2.4 million a year, with an estimated economic cost of US$242 billion. RTCs are also the eighth leading cause of death globally (approximately 1.35 million fatalities in 2016; World Health Organization, 2018).
These findings highlight the ethical responsibility that organisations have to reduce these kinds of stressors during work. It's not only important for employee well-being, which is obvious, but also has an impact on other drivers, family members, cyclists, healthcare workers, the economy, and society in general. It is a critical safety concern.
---
The paper has been published in Journal of Management under the title Lost Control Driving Home: A Dual-Pathway Model of Self-Control Work Demands and Commuter Driving.
Rotterdam School of Management, Erasmus University (RSM) is one of Europe's top-ranked business schools. RSM provides ground-breaking research and education furthering excellence in all aspects of management and is based in the international port city of Rotterdam – a vital nexus of business, logistics and trade. RSM's primary focus is on developing business leaders with international careers who can become a force for positive change by carrying their innovative mindset into a sustainable future. Our first-class range of bachelor, master, MBA, PhD and executive programmes encourage them to become to become critical, creative, caring and collaborative thinkers and doers. Study information and activities for future students, executives and alumni are also organised from the RSM office in Chengdu, China. www.rsm.nl
For more information about RSM or this article, please contact Danielle Baan, Media Officer for RSM, via +31 10 408 2028 or baan@rsm.nl.