Prior connections help suppliers to gain the trust of new buyers Tuesday, 26 January 2021
Trust is the most important business asset of all, especially in relationships with customers, clients, employees, and stakeholders. But how does it get established? And what factors can affect the development of trust in potential suppliers? Dr Evelien Reusen, Assistant Professor in the department of Accounting and Control at Rotterdam School of Management, Erasmus University (RSM) examined whether and how third-party information – information from others – shapes buyer managers' initial trust in potential suppliers, and how it subsequently affects their supplier selection decisions.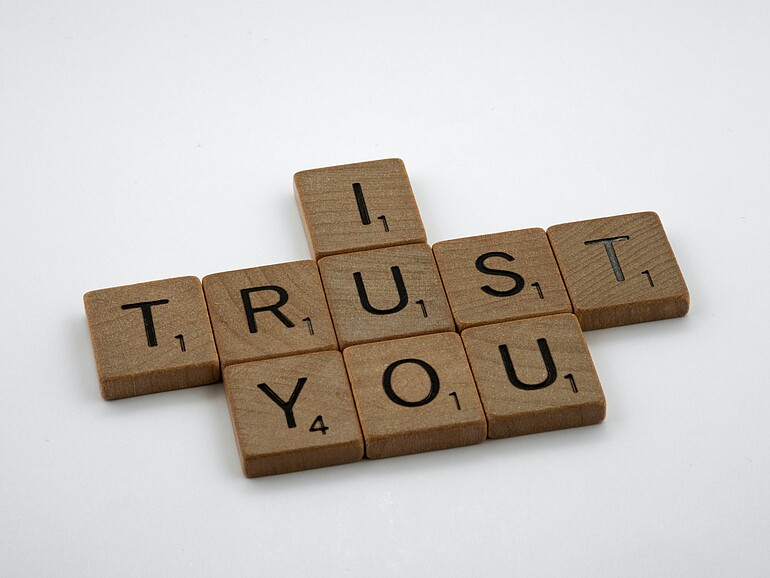 Given the common challenges in partner search and selection, third parties, such as other buyer firms, oftentimes function as valuable information sources and conduits of trust. This study investigates in more detail how interfirm partnering is affected by a process of trust transfer, in which buyer managers inform their own trusting beliefs and subsequent supplier selection decisions based on the actions and experiences of other firms.
It's easy to see testimonials on company webpages, in press releases or discovery platforms that provide information about potential suppliers' past and current business relationships. While this information reveals something about the extent to which other firms have trusted the supplier, the precise outcomes of these dealings are not publicly available. This invokes the question of whether the mere knowledge of other firms' dealings, without any information about the outcomes, is sufficient to elicit trust.
Dr. Reusen conducted an experiment to investigate this research question. The focus is on trust at the initial stages of the relationship; that is, when partners are being evaluated and eventually selected. The experimental method is considered to be most suitable to address our research question, as the impact of various factors influencing partner attractiveness cannot be gauged for relationships that are already in existence. For instance, surveying managers regarding the choices already made is likely to result in retrospective biases. An experimental approach can help to overcome these issues and also allows us to isolate the causal effect of information from other firms' experiences from other factors influencing perceptions about a potential partner's trustworthiness and subsequent selection decisions.
In the experiment, participants assumed the role of a manager in charge of handling collaborative relationships with new suppliers. The manager would have access to information from their own firms' previous experiences with a particular supplier, and to information from third parties Based on this, they were asked to assess the potential supplier levels of competence and goodwill and, in turn, the likelihood of selecting that company as a supplier. As such, the notion of trust encompassed not only concerns about a partner's ability to perform according to agreements (i.e., competence trust), but also its intentions to do so (i.e., goodwill trust).
"Suppliers that want to be seen as trustworthy by a particular buyer should manage the publicity of their existing relationships and how they are referred to by others"
Trust in competence transfers more easily than trust in goodwill

The study found that trust can be transferred – third-party connections do indeed work to confer trust in a potential supplier. Specifically, besides the influence that third parties have by sharing their experiences and releasing information about past performance, this study finds that the mere observation of other firms' patterns of ties can elicit trust and influence partner selection.
Notably, this apparent mimetic trust effect especially holds for competence trust, not so much for goodwill trust. Simply knowing that other companies have trusted a supplier – without any information about the outcomes – is enough to increase managers' levels of trust in the competence of that supplier. This, Dr Reusen says, is evidence for the existence of the transfer of trust even if there is no accompanying statement about a positive outcome.

In contrast, managers' levels of trust in the goodwill of suppliers only increases when managers know that others have done business with the supplier and were satisfied with this; in fact, indicating there have been good outcomes that prove the supplier is trustworthy. Dr Reusen says that these observations illustrate an approach to developing trust before making business choices that's cautious and rational; managers' overall evaluations of trustworthiness tend not to be based on minimal information.
It's only when a manager knows for sure that other businesses have satisfactorily dealt with the potential supplier that they have enough confidence in the supplier's good intentions, in addition to its ability to perform.
Overall, the results suggest that managers do develop trust in potential suppliers according to the content of third-party information, and that trust in competence is more readily transferred across relationships than trust in goodwill.
Third-party information always helps

You might expect that businesses unfamiliar with a supplier have less information available from their own experience so pay more attention to signals from other buyers' experiences instead. But what if buyers' already have their own information from their own experience? The researchers found that having prior experience still doesn't weaken the effect of third-party information when it comes to forming trust. Instead, results indicate that even for buyers who can use their business' own prior experiences, third-party information still has a positive effect on the perceptions they hold of the supplier's trustworthiness – and so third-party information still influences their selection decisions.
Practical implications

In today's information-rich environment, the role of current customers is important for businesses to win the confidence of new buyers. Current customers are among the most influential sources of information for potential new buyers, and this study demonstrates that buyer managers value third-party information highly; it forms a critical part of their search, evaluation, and decision-making process.
In fact, a buyer manager who has had no direct experience with a particular supplier can still reach an informed judgment about that supplier's trustworthiness via third parties. This might explain how unfamiliar partners can initially trust each other and start collaborating.
And even buyer managers that do have direct experience with the supplier still tend to use third-party information to supplement their own direct information. Their assessments are based on both sources of information.
Networking to find out more

If buyers actively invest in their networks by strategically establishing and maintaining ties to other buyers, then they gain more inside information about the availability, capabilities, and reliability of potential suppliers – this is information which is often not publicly available. The bigger a buyer's network, the greater the available evidence – and the more comprehensive the evaluation for making a choice of supplier.
Become trusted and chosen

The study also provides useful insights for supplier businesses that want to be trusted and eventually selected. There is a clear opportunity for suppliers to leverage their relationships. The results of the study suggest that displaying information about previous partnerships is a worthwhile tactic for building trust, and also points to the potential of actively connecting satisfied customers with prospective buyers to promote the transfer of trust and advertise their relevant experience. They could solicit testimonials from satisfied customers, or connect potential new buyers with existing customers and encourage them to give their positive reviews. Businesses may convince others of their appropriate abilities and intentions before they have even demonstrated them.

And even if suppliers have shown consistent and competent performances and commitment in earlier working relationships, third-party endorsements could accentuate existing competence as well as belief in their goodwill and, in turn, positively influence partner selection decisions for new deals.
To conclude, Dr. Reusen highlights that it is important for suppliers that want to be seen as trustworthy by a particular buyer to not only to focus on how they behave in that relationship, but also to publicise their existing relationships and how they are referred to by others. If this is done effectively, suppliers are more likely to be seen as trustworthy, and this creates a competitive edge when it comes to being chosen as a supplier.
This paper was published in Accounting, Organizations and Society as: Trust transfer and partner selection in interfirm relationships; Reusen, E. & Stouthuysen, K. (2020).

Rotterdam School of Management, Erasmus University (RSM) is one of Europe's top-ranked business schools. RSM provides ground-breaking research and education furthering excellence in all aspects of management and is based in the international port city of Rotterdam – a vital nexus of business, logistics and trade. RSM's primary focus is on developing business leaders with international careers who can become a force for positive change by carrying their innovative mindset into a sustainable future. Our first-class range of bachelor, master, MBA, PhD and executive programmes encourage them to become to become critical, creative, caring and collaborative thinkers and doers. Study information and activities for future students, executives and alumni are also organised from the RSM office in Chengdu, China. www.rsm.nl
For more information about RSM or this article, please contact Danielle Baan, Media Officer for RSM, via +31 10 408 2028 or baan@rsm.nl.