ERIM AWARDS – RSM's best research of 2020 Thursday, 28 January 2021
Each year the Erasmus Research Institute of Management (ERIM) recognises the best research articles, dissertations and young researchers in the ERIM Awards. Award winners represent some of RSM's best research that creates impact in society. There's an overview of the research recognised in the 2020 awards – and the jury's comments – in RSM's corresponding news item here. But here, we explore the award-winning research in more depth.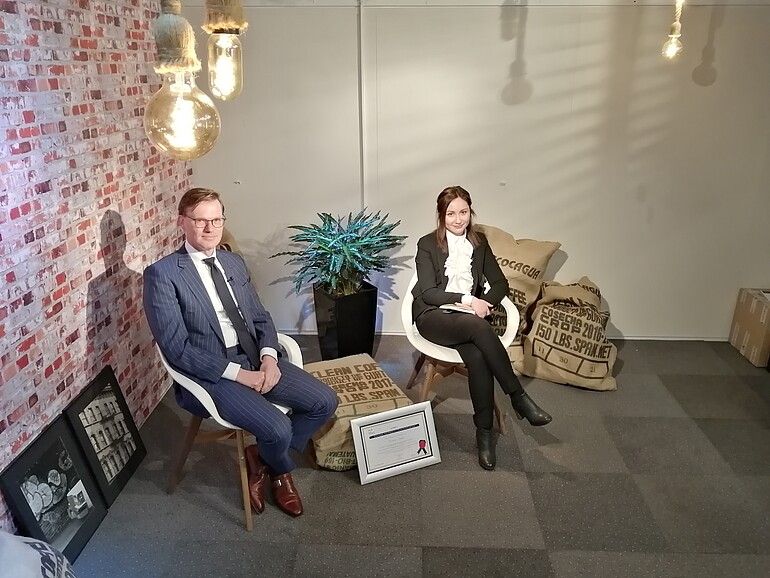 Helping CEOs to make better decisions
The 2020 Dissertation Award was presented to Dr Radina Blagoeva for her dissertation entitled The Hard Power Of Soft Power: A behavioral strategy perspective on how power, reputation, and status affect firms. ; she is now an assistant professor at the University of Georgia in the Terry College of Business.
It is best for companies if managers and members of the financial markets interact with mutual understanding, and clear, realistic and fair expectations; in other words, using transparent communication. Yet according to what science says about the ways most CEOs and investors interact, it seems it's all a matter of investors putting pressure on companies and demanding growth and financial performance at any cost – and then CEOs hide information or mislead investors into believing something that's not quite true. But Dr Blagoeva felt there should be a better way. She cares about making CEOs and investors aware of those better ways of working with each other for the benefit of businesses and society.
She found that many sources of power related to the CEO position, such as ownership in the company and levels of expertise, could make CEOs more easily affected by pressures from the financial markets, which could curb business innovation. At the same time, the power of CEOs that comes from their prestige and social recognition was good for companies. It gave CEOs reassurance in their own abilities to cope with pressures from the financial markets, and it made them more willing to openly discuss the company's strategy and be less defensive when interacting with financial analysts and investors.
Dr Blagoeva also found that investors formed their expectations of what they considered appropriate behaviour for companies based on the companies' past records, and in particular the company's records for growth and for paying dividends because those are the two ways in which companies create value for their shareholders. When companies made strategic decisions that were not aligned with investors' expectations, investors' assessment of the future prospects of the company were disproportionately and negatively biased. However, this negative effect could be mitigated if CEOs explained to investors how the strategic initiative was meant to contribute to the creation of shareholder value in the way that investors expected. Dr Blagoeva also found that investors had more confidence in the decision making of CEOs – and were more positive about the company's prospects – when CEOs were more tentative in their claims and were less dominant when interacting with investors.
Such findings can help companies select the right CEOs and create conditions that facilitate CEOs to make better decisions. For example, companies can try to hire more prestigious and socially recognised CEOs because they seem to be better at managing pressures from the financial markets. Alternatively, companies could limit the responsibilities and authority they give to CEOs and encourage them to work more closely with other members of the top management team and the board of directors; another way to reduce the pressure on the CEO and improve their decision-making.
The findings from Dr Blagoeva's research could also help CEOs to communicate better with investors; first by helping them to keep aware of their investors' expectations; and second by making sure they give investors a clear explanation of how different strategies are meant to satisfy such expectations. In interacting with investors and financial analysts, CEOs could consider using a less dominant and definitive style of language too – this could improve investors' trust in the CEO and make them more confident of the company's positive prospects.
What does winning this award mean to you?
Dr Blagoeva: "It's a great personal achievement for me. I have always considered ERIM a place of great talent and scholars with brilliant minds. I learnt a lot from my supervisors Justin Jansen and Tom Mom, and all the other faculty and fellow PhD students around me. I always felt intellectually challenged by high scholarly standards, inspired by many creative ideas, and felt supported to pursue my goals. I am grateful for the amazing and personally developmental time I spent at ERIM, and I feel honoured to receive this recognition for my work given the many great fellow PhD candidates I got to know there."
---
The unintended effects of monetary policy
The 2020 Top Article Award was presented to Dr Tim Eisert for the article Whatever It Takes: The Real Effects of Unconventional Monetary Policy with co-authors Viral V. Acharya (the C.V. Starr Professor of Economics, Leonard N. Stern School of Business, New York University), Christian Eufinger (Associate Professor, Department of Financial Management, IESE Business School, University of Navarra) and Christian Hirsch (Economist at Deutsche Bundesbank). Dr Eisert is an associate professor at the Erasmus School of Economics, Erasmus University.
His research focuses on understanding the role of banks in the transmission of conventional and unconventional monetary policy and regulation into real economic activity such as employment, investment, house prices, productivity, and growth.
The European Central Bank (ECB) implemented various measures to stabilise the European banking sector and stimulate economic growth in 2012. Dr Eisert's paper investigates why the stability re-established in the banking sector by the ECB during the Sovereign Debt Crisis in 2012did not fully translate into economic growth.
Even after the implementation of various policy measures, several European banks were still weakly capitalized (i.e., were holding too little equity) and thus engaged in "zombie lending"— issuing cheap credit to impaired companies. This had negative spill-over effects on healthy companies, who in turn also hired fewer workers and invested less.
Dr Eisert's research highlights important factors that might prevent healthy, profitable companies from fully recovering from an economic recession. These companies face substantial competition from unviable firms that hog resources and thus divert funds from productive investment opportunities. Healthy companies thus become financially constrained which prevents job creation and investment.
His paper discusses the side effects of unconventional accommodative monetary policy – when central banks engage in asset purchases (e.g., by buying sovereign bonds in the open market) – that happens in an environment with an undercapitalized banking sector. Monetary policy actions conducted by central banks might not achieve the desired outcome if the transmission mechanism is hindered by a weak banking sector. This has important implications for how central banks should respond to crises and whether growth and employment are able to recover quickly.
What does winning this award mean to you?
Dr Eisert: "It is a great honour to receive this prestigious award. Considering the high quality of the papers that received this award in the past, I am very happy to have been selected by the selection committee. I am also grateful to my co-authors Viral Acharya, Christian Eufinger, and Christian Hirsch without whom this project would not have been as successful as it turned out to be."
---
When the strategy of being different pays off
The 2020 ERIM Award for Outstanding Performance by a Young Researcher has two winners this year. The first award went to Dr Richard Haans, an assistant professor in the department of Strategic Management and Entrepreneurship at RSM.
He studies how firms can become "optimally distinct" by striking the right balance between being different from and yet similar to their competitors. In other words: how different should you be in order to become most successful?
The study looked at how about 69,000 entrepreneurs and organisations in the Dutch creative industries described their activities on their own websites by applying a machine-learning algorithm called 'topic modelling' to model the extent to which they emphasise specific topics in their descriptions. This enabled Dr Haans to identify to what extent these entrepreneurs and organisations were unique in how they positioned themselves, compared to others in the same industry. Then, he studied how being different (or not) resulted in better or worse performance in different types of industries.
He found no support for the idea that they should strive for being moderately distinctive from their peers. Specifically, in industries where the market is very clearly defined around a prototypical way of doing things (known as 'homogeneous industries' in which companies tend to look a lot like each other) it pays to either adhere to these norms and to imitate, or to really differentiate yourself and break from the pack – he found the differentiation strategy paid off particularly well. He found that entrepreneurs and organisations that were only moderately different under-performed compared to those using alternative strategies to make themselves stand out. His findings are aligned with the idea that trying to be both similar and different will lead to companies getting 'stuck in the middle'.
In industries with some (but not too much) variation in how companies operate and position themselves – such as film production or software development – there was a positive effect from differentiation. This would imply that being as different as possible from competitors is the best strategy.
Finally, in industries where there was a lot of variation in the way entrepreneurs and organisations position themselves (so much so that there appeared to be no particularly normal way of doing things) such as in the visual arts or in industrial design, distinctiveness had no effect whatsoever.
Dr Haans concluded that it's really important for entrepreneurs and organisations to be aware of their context. This may seem obvious but given the multidimensional nature of strategy it can be quite difficult to actually identify what peers are doing and how you are positioned compared to them. More generally, the study shows that the classic strategy recommendation to differentiate yourself seems to work: it yields the best performance in both homogeneous and more average industries, and at least it won't hurt in heterogeneous industries. At the same time, an imitation strategy is a feasible one too – but works better mainly in very homogeneous industries.
The research was done with support from the NWO (The Dutch Research Council) and from FNV Kiem (now: De Kunstenbond) and was part of a bigger project which also included a wrap-up event for entrepreneurs in the creative industries, where this project was also presented.
What does winning this award mean to you?
Dr Haans: "Winning this award is a tremendous motivation boost. It shows me that my work is appreciated and that I am heading in the right direction with the kinds of questions that I have been studying. I am really honoured to receive this award."
---
Political influence within financial authorities
The 2020 ERIM Award for Outstanding Performance by a Young Researcher has two winners this year. The second award went to Dr Thomas Lambert, an assistant professor of finance at RSM.
His research focuses on the political economy of finance. This field is interested in how the design of political institutions and the distribution of political power in society affect the development and functioning of financial systems.
Political considerations have become important in financial economics in recent years, from political connections in companies to the effects of political uncertainty on investments, and from the design of rules that make financial systems viable to the politically-motivated changes in bankruptcy law, politics is playing a greater role in finance research.
Dr Lambert's interest in these issues started during his PhD studies from 2010, in the aftermath of the financial crisis that was caused in part by political economy considerations. Now, more than a decade since the crisis rocked financial systems around the world, contemporary academic and public debates are still being shaped by the after effects. Dr Lambert's research aims to contribute to these debates by focusing on the causes and consequences of political influence within financial authorities, such as central banks and banking regulators. These financial authorities are the major actors in preventing and managing financial crises.
A crucial aspect of his research in this area is his efforts to collect detailed archival data with the implementation of clean empirical setting for causal identification.
What does winning this award mean to you?
Dr Lambert: "I feel very flattered and honoured to receive this award for my work on the political economy of finance, an area that has never been so relevant as now, and one that I started to explore during my PhD studies. It is very rewarding to see that ERIM recognises my recent accomplishments in this area. Looking ahead, such an award gives me further motivation to sustain and strengthen my research endeavour within the ERIM research community on topics at the intersection between politics and finance."
---
Scale-up research with real impact
The ERIM Societal Impact Award 2020 was presented to Prof. Justin Jansen and Prof. Tom Mom for their research Scaling-up: Building, Leading, and Sustaining High-Growth Firms.
What are the leadership and organisational capabilities needed to transition from a start-up into a scale-up, and how do leaders of scale-up make sure their company keeps growing over time?
This is an area that matters a lot for entrepreneurs and for society at large. Scale-ups are of great importance for the future of economies and society. They provide tomorrow's income, they are the engines producing jobs, and they contribute to the renewal and competitiveness of sectors by inventing new technologies, business models, and products.
Yet, it is very difficult to scale up: it is only around 5 per cent of all start-ups that manage to transition into a scale-up. And if you are a scale-up, it is very hard to continue being so: only a third of them can maintain high growth rates for more than seven or eight years.
Interestingly, while we hear more in the popular press about scale-ups, there is hardly any research into them in business and management. And as public policy makers devote more attention to scale-ups, the effectiveness of existing programmes is unclear.
Jansen and Mom decided to try to 'crack the DNA' of successful scale-ups in their research: what leadership and organisational capabilities are needed to transition from a start-up into a scale-up, and how do leaders of scale-ups make sure their company keeps growing?
The professors decided to try to make a difference for entrepreneurs and broader society by creating tools and platforms, training and education, policy engagement, and by being active in the press and creating advisory reports. In short, by creating as much impact as possible.
What does winning this award mean to you?
They commented jointly: "Very rewarding. It certainly will help us and the School to make an ever larger impact."
---
Open Science as the new standard for research
The first ERIM Open Science Award 2020, a new honour in the ERIM Awards, went to Dr Gabriele Paolacci, an associate professor of marketing at RSM.
Open Science is the movement to make scientific research and data accessible to all. It includes practices such as publishing open scientific research, campaigning for open access and generally making it easier to publish and communicate scientific knowledge. Additionally, it includes other ways to make science more transparent and accessible during the research process.
The many advantages of this include:
Greater availability and accessibility of publicly funded scientific research outputs;
Possibility for rigorous peer-review processes;
Greater reproducibility and transparency of scientific works;
Greater impact of scientific research.
Dr Paolacci's interest in Open Science grew from his personal experience. During his PhD, Dr Paolacci wanted to be a behavioural researcher, but he had little access to behavioural data. Behavioural researchers collect data from surveys and experiments from human participants, but he did not have the appropriate facilities such as a physical laboratory. So then he wanted to use samples of online participants, but decided first to check if the quality of the data was good enough to use in his research. To check, he started replicate older behavioural research using Amazon Mechanical Turk (now a standard tool in behavioural research), and found results to match the originals. This suggested to him that it was possible to use online samples productively, but also got him interested in issues of data quality and replicability.
He explains that open science is not important only for academics, but also for businesses and society at large. Research produces findings which influence policy makers and business professionals. Scientific results are typically assumed to be true and are used to shape policy and the way businesses operate. But there have been instances where these results turned out to be untrue. Academia should make sure their science is solid by reproducing the work of others and by continually questioning the veracity of findings. This can only happen when scientists make their research material, their processes, and their data available to others.
Dr Paolacci believes that the time and efforts required to make science open are well spent. Not only can the research community evaluate and reproduce results much more easily when science is open; there is also the fact that when someone's research can be inspected, it makes scientists more accountable, which is also desirable for individual researchers. If errors and shortcuts are available for everyone to see, researchers have a stronger incentive to try and do things right.
What does winning this award mean to you?
Dr Paolacci: "I have been an adopter and supporter of Open Science practices for a few years, and I now think of openness as a prerequisite for science. In the future, I think the default will be for science to be open, to the point that we will not need to explicitly recognise open science practices. But today, acknowledging their importance can speed up this process, and it's great that ERIM decided to institute this new award. For me it's an honour to receive it, but also an encouragement to strive to even higher levels of openness."
---
Rotterdam School of Management, Erasmus University (RSM) is one of Europe's top-ranked business schools. RSM provides ground-breaking research and education furthering excellence in all aspects of management and is based in the international port city of Rotterdam – a vital nexus of business, logistics and trade. RSM's primary focus is on developing business leaders with international careers who can become a force for positive change by carrying their innovative mindset into a sustainable future. Our first-class range of bachelor, master, MBA, PhD and executive programmes encourage them to become to become critical, creative, caring and collaborative thinkers and doers. Study information and activities for future students, executives and alumni are also organised from the RSM office in Chengdu, China. www.rsm.nl
For more information about RSM or this article, please contact Danielle Baan, Media Officer for RSM, via +31 10 408 2028 or baan@rsm.nl.