RSM Discovery magazine 38 – out now! Friday, 26 June 2020
In these unprecedented times, effective leadership is essential – not only from those at the top of the hierarchical pyramid, but also from middle managers and team leaders. The latest edition of RSM Discovery magazine has just been published under the editorship of the Erasmus Centre for Leadership and is entirely devoted to exploring just some of the many facets of leadership.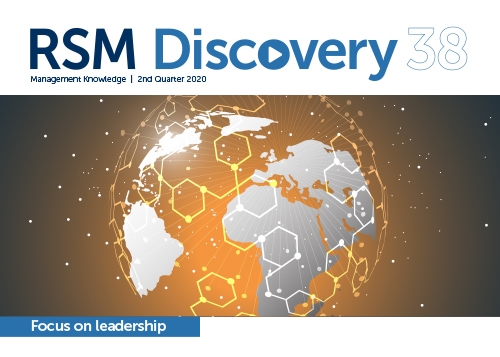 Download your free copy of RSM Discovery magazine (pdf) and stay ahead of the competition by thinking business the RSM way.
Individual CEOs and presidents are leaders, but so are middle managers and team members. And they deal with a lot of issues concerning decisionmaking, motivation, self-regulation, organisational design, team dynamics, and politics, to name just a few areas. This edition of RSM Discovery magazine embodies this diversity in leadership.
The articles in this issue explore:
How the Erasmus Centre for Leadership is equipping future leaders with the skills they need, and advancing our understanding of the essence of leadership.

Why the priority for leaders is no longer shareholder returns, but the creation of shared value for stakeholders.

Can leadership development programmes offer tangible and lasting results?

Lessons from sports: how multiple leadership creates a win-win for teams.

Lonely at the top? Try being in the middle.

Adapting to the 'new normal' by invoking a sense of nostalgia.

How Wikipedia shows us it's possible to have leadership without leaders.

Why encouraging employees to speak out is good for business, innovation, motivation and more.

What mergers and acquisitions tell us about leadership that's applicable to today.
Click here for seperate articles and former Discovery magazines.
Rotterdam School of Management, Erasmus University (RSM) is one of Europe's top-ranked business schools. RSM provides ground-breaking research and education furthering excellence in all aspects of management and is based in the international port city of Rotterdam – a vital nexus of business, logistics and trade. RSM's primary focus is on developing business leaders with international careers who can become a force for positive change by carrying their innovative mindset into a sustainable future. Our first-class range of bachelor, master, MBA, PhD and executive programmes encourage them to become to become critical, creative, caring and collaborative thinkers and doers. Study information and activities for future students, executives and alumni are also organised from the RSM office in Chengdu, China. www.rsm.nl
For more information about Discovery, please contact Danielle Baan, Science Communication Officer for RSM, via +31 10 408 2028 or baan@rsm.nl.