RSM Discovery 41 - Global Supply Chains Friday, 17 March 2023
Out now! The latest issue of RSM Discovery magazine explores how supply chain and logistics are putting into motion the measures needed to keep supplies on the move for 21st century business around the world.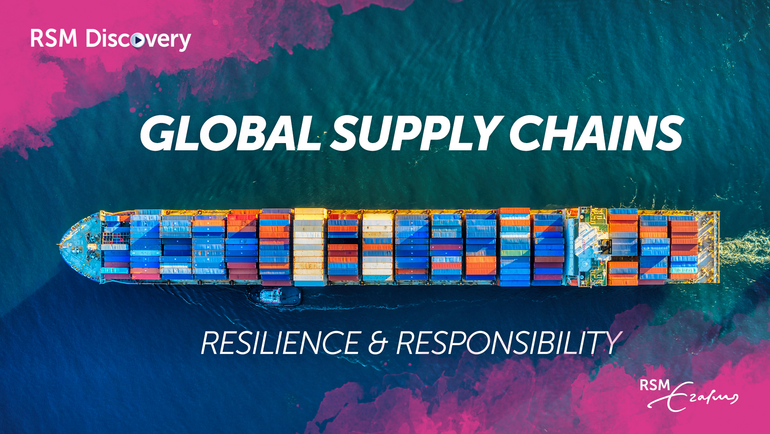 Read about:
what businesses can learn from humanitarian relief organisations in dealing with ongoing disruptions and uncertainty from Harwin de Vries
how the design of vaccination distribution systems affects patient preferences and vaccine uptake from Cynthia Kong, Harwin de Vries, and Abed Kayyal
Adriana Domínguez, CEO of Spanish fashion company Adolfo Domínguez, who reflects on the impact of the Covid pandemic on nearshoring and automation.
the challenges of developing responsible and resilient supply chains in terms of the dynamic between competition and transparency, and aligning stakeholder interests from Linh Nguyenv, Merieke Stevens and Rob Zuidwijk
the problem of counterfeiting and pirated articles in global supply chains, and actions that can suppress this from Morteza Pourakbar and Albert Veenstra
the prevalence of ethical challenges in buyer-supplier relations, and what companies such as FrieslandCampina are doing to maintain high ethical standards from Fanny Chen, Finn Wynstra and Jan van Dalen
Flare, a start-up company working to improve the accessibility and availability of ambulance services in emerging markets from Pieter van den Berg and Stef Lemmens.
This special issue highlights the importance of transparency and accountability in supply chain management, as well as the need for timely and reliable availability of components, as demonstrated by the recent worldwide shortages of semiconductors.
---
Rotterdam School of Management, Erasmus University (RSM) is one of Europe's top-ranked business schools. RSM provides ground-breaking research and education furthering excellence in all aspects of management and is based in the international port city of Rotterdam – a vital nexus of business, logistics and trade. RSM's primary focus is on developing business leaders with international careers who can become a force for positive change by carrying their innovative mindset into a sustainable future. Our first-class range of bachelor, master, MBA, PhD and executive programmes encourage them to become to become critical, creative, caring and collaborative thinkers and doers. www.rsm.nl
For more information about RSM or this article, please contact Danielle Baan, Media Officer for RSM, via +31 10 408 2028 or baan@rsm.nl.